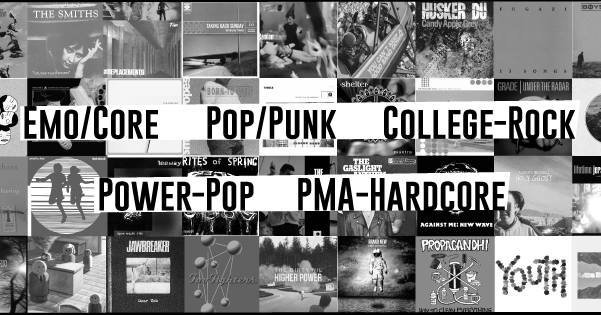 Fr 22.10.2021 | 22:30 UHR
Trusty Chords
FB-EVENT
**Die Veranstaltung wird unter Einhaltung der 2G-Regelungen stattfinden.**

Jan Schwarzkamp (VISIONS Magazin / Radio Fritz) plays your favourite tunes. Expect (POP)PUNK, EMO(CORE), POWER-POP, COLLEGE ROCK and some PMA HARDCORE. You'll love it!
Attention: 2G is the rule!
Entrance-fee: Pay what you want!
Drag your small-sized band-shirts out of the drawer: Trusty Chords is presenting all your favourite bands from way back when until today's nicest treats.
Expect (mainly) oldschool-hits by bands like The Promise Ring, Saves The Day, Texas Is The Reason, Sunny Day Real Estate, Braid, Taking Back Sunday, Say Anything, Alkaline Trio, Hot Water Music, Rites Of Spring, The Get Up Kids, Jimmy Eat World, American Football, Modern Baseball, Cap'n Jazz, Mineral, Jawbreaker, At The Drive In, Desaparecidos, The Anniversary, Reggie and the Full Effect, Tiny Moving Parts, Jets To Brazil, Sense Field, Christie Front Drive, Coheed and Cambria, Death Cab For Cutie, Rainer Maria, Piebald, Weezer, Cursive, Juliana Theory, The Used, Thursday, Dashboard Confessional, Further Seems Forever, Straylight Run, The Weakerthans, Lifetime, The Stereo, Fidlar, The Dirty Nil, Elvis Costello, Ramones, The Undertones, Buzzcocks, The Lemonheads, The Smiths, Nofx, Rancid, The Bronx, Pup, Beach Slang, Nada Surf, Into It. Over It., Superchunk, Basement, Rival Schools, Quicksand, CIV, Gorilla Biscuits, Shelter, Elliott, Chamberlain, We Were Promised Jetpacks, Hüsker Dü, Misfits, Boysetsfire, Turnstile, Angel Dust, Nirvana, Bikini Kill, Le Tigre, Breeders, Pixies, Fugazi, Hey Mercedes, Against Me!, The Gaslight Anthem and many, many more…
**Die Veranstaltung wird unter Einhaltung der 2G-Regelungen stattfinden.
 Besucher*Innen müssen für den Einlass folgende Nachweise vorlegen:
einen vollständigen, digitalen, lesbaren Impfschutzschnachweis (QR-Code) + einen amtlichen Lichtbildausweis
ODER
den Nachweis vollständig genesen zu sein (die positive Testung via PCR-Test muss in den vergangenen 28 Tagen bis 6 Monaten erfolgt sein) + einen amtlichen Lichtbildausweis
 
Des Weiteren werden, aufgrund der Pflicht zur Sicherstellung der Kontaktnachverfolgung, die Kontaktdaten sämtlicher Besucher*Innen erfasst.
Dies erfolgt über das Einchecken im Event via Luca-App oder Corona-App oder alternativ über das Ausfüllen eines entsprechenden Kontaktformulars vor Ort.**