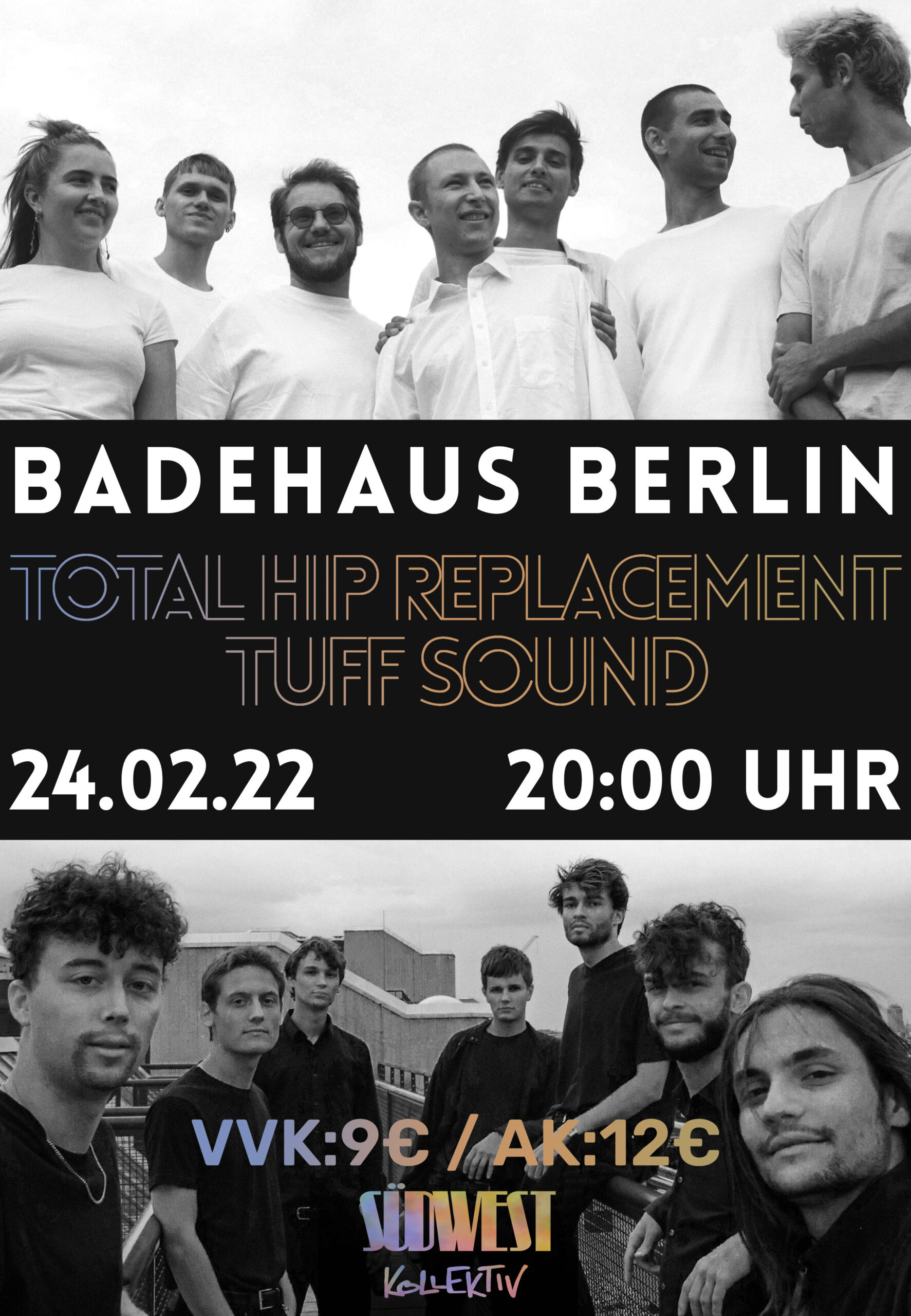 Do 24.02.2022 | 20:00 UHR
Total Hip Replacement | Tuff Sound
TICKETS
FB-EVENT
24.02.2022
Badehaus Berlin
Total Hip Replacement:
Total Hip Replacement is a groovy 7-piece orchestra known for its energetic and unique live concerts. Playfully the band operates between the organic and theelectronic, where heavy grooves, warm brass and intense synthesizers meet in a
musical landscape that is dark and longing, but full of hopeful energy.
Total Hip Replacement will, at a time when mental health, political security and global humanitarian conditions are under pressure, remind the world of the importance of coming together across classes and cultures.
With a text universe that invites to reflection, the audience is taken on a transcendent, ecstatic journey, where the boundary between musician and listener is blurred in the heat of battle.
Tuff Sound:
Tuff Sound from Berlin! An ensemble consisting of a 4-piece rhythm section, 2 frontmen singing in English and German and a brass section (Sax & Trombone) is determined to make their listeners move to deep soundscapes and finely composed grooves. The sound can be described as a rich and colorful mix of different influences a part of them being Ska/Reggae with Hip Hop elements and handmade Dub sequences.
The concerts are energetic and vibrant, melodic and emotional, and certainly suitable for any groove lover, – the lyrics critically appoint social and ecological subjects, dealing with times of global change, – the music is a result of good friendships, which you can experience at one of their shows!
Presented by Südwest Kollektiv