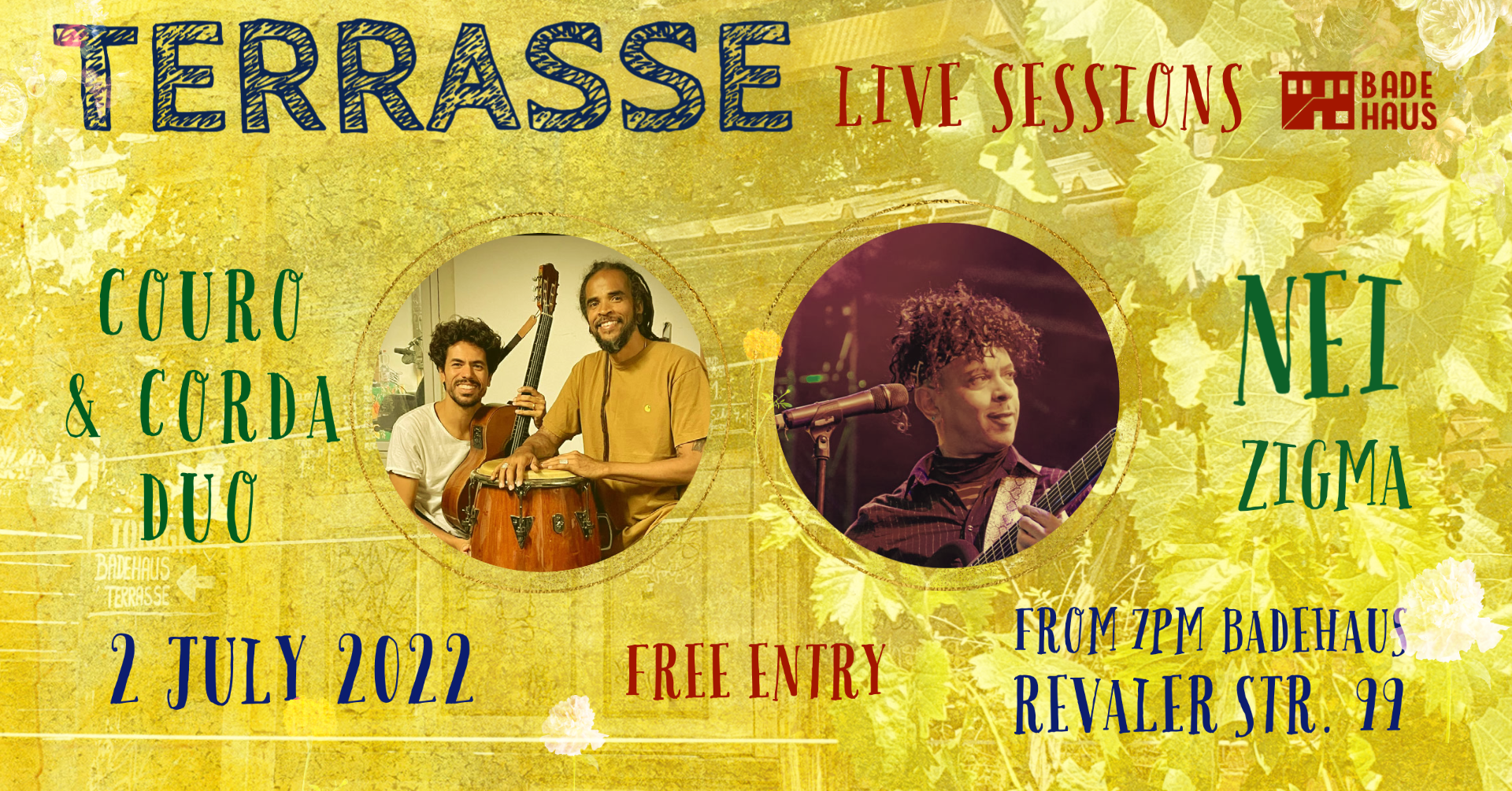 Sa 02.07.2022 | 19:00 UHR
Terrasse Live Sessions – Brazilian Live Music
FB-EVENT
02.07.2022
Badehaus Berlin
Entry Free!
We are happy to announce a live music edition on our cozy terrace!
To enjoy the summer heat with cold drinks, in our line up three great Brazilian musicians bring in their repertoire a lot of Bossa Nova, Samba, Chorinho, and much more.
19:00 Nei Zigma
20:30 Duo Couro e Corda (Zé Leonidas & Biano Lima)
Nei Zigma Brazilian singer and songwriter, he presents the show Orbital acoustic, where he brings together songs from his recent EP.
Nei Zigma released in July 2020 and compositions from your new album in production that will be released this next September 2022..
With poems that narrate the ancestral heritage of a AfroBrazilian culture, The repertoire gather progressive Rock, Samba, Funk with his original compositions.
xxx
Couro & Corda Duo brings together two Berlin based Brazilian musicians, Zé Leônidas (voice/guitar) and Biano Lima (percussion).
The characteristic Afro-Samba sonority elevates the vibration with joyful rhythm and soulful singing, performed with both original and consacrated songs with a special focus on the spiritual dimension of the great Brazilian popular music songbook .
We present our "axé music", referring to the spiritual process that it came to serve and from which it is nourished at the same time. A translation from the terreiro and the sacred circle to the stage, as is, in general, the most powerful part of Brazilian popular music, which originated precisely in these spaces. From Caymmi and Gonzaga to today (and even before).
Zé Leônidas
Multi-instrumentalist musician, singer and songwriter from São Paulo (Brazil), which has recently released his first studio album. During his twenty years or so of experience, besides working on his own music, he has been requested as guitarist, drummer and singer, collaborating with projects such as Grupo João de Barro (Samba), Caixa Cubo (jazz trio) and Lenna Bahule (singer/songwriter).
For the passed few years he has also worked as musician abroad in tours around Europe presenting his own brazilian music work and also playing in spiritual ceremonies.
Biano Lima
Percussionist musician, pedagogue, therapist, DJ and music producer from Recife (Brazil), currently living in the city of Berlin where he develops research, dissemination and teaching of Afro-Brazilian rhythms. He had the opportunity to tour with several musical groups and give workshops in Morocco, Tanzania, Korea, Eastern Europe and India. Currently he works in projects ranging from Hip Hop to Reggae, DUB and Afro-Beat. His research focus is on mixing Root Music and Contemporary Music.