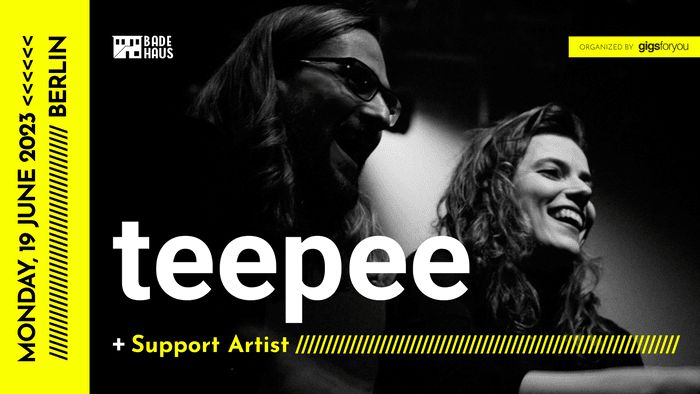 Mo 19.06.2023 | 19:30 UHR
teepee
TICKETS
FB-EVENT
19.06.2023
Badehaus Berlin
Early Bird Tickets
Individual and Group (buy 5 tickets for the price of 4) tickets. Both options are on sale until Sunday, 21st May 23:59h or until they are sold out.
Standard Tickets
From Monday, May 22nd 00:00h there will be single and Group (limited amount) tickets on sale at the standard price until they are sold out.
Light and darkness. Eyes closed on a journey to your own emotions. The melodies change the rhythm of your heartbeat, while you silently listen to every word sung. It feels like we are all connected and it's so obviously honest, real, and it's earnest.
With their performances, teepee aims to create a welcoming and safer space, a parallel world where you can stop for a moment and let go. It is a space where any sign of difference is embraced, a place to observe the wonders buried deep within you. Soulful vocal harmonies and captivating melodies help capture the magic between Tereza and Miroslav, who formed the dream-pop project teepee in 2015 and have been exploring the space between electric and acoustic elements ever since. Subtle samples and synthetic sounds provide a bed for their melancholic, honest and confessional lyrics. Over time, they have enriched their original sound which is rooted in indie-folk with more electronic and pop elements, highlighted by the involvement of new live musicians
teepee is a pretty well established band from the Czech Republic with 3 released studio albums and over 1 million streams on Spotify. They have also played numerous shows throughout Europe and at some major showcase festivals such as Eurosonic, Enea Spring Break, Waves Vienna and Reeperbahn Festival. Right before the outbreak of the Covid-19 pandemic, the band played their biggest European tour in support of the British duo Seafret which also included a sold out show in Berlin.
WANNA PLAY AS SUPPORT ACT?
We're looking for a Berlin based artist to support 'teepee' in their concert at 'Badehaus'. If you have listened to their music and you think that you'd be a good fit to be part of this exciting concert, don't hesitate and apply at 'www.gigsforyou.live' before June 2nd!