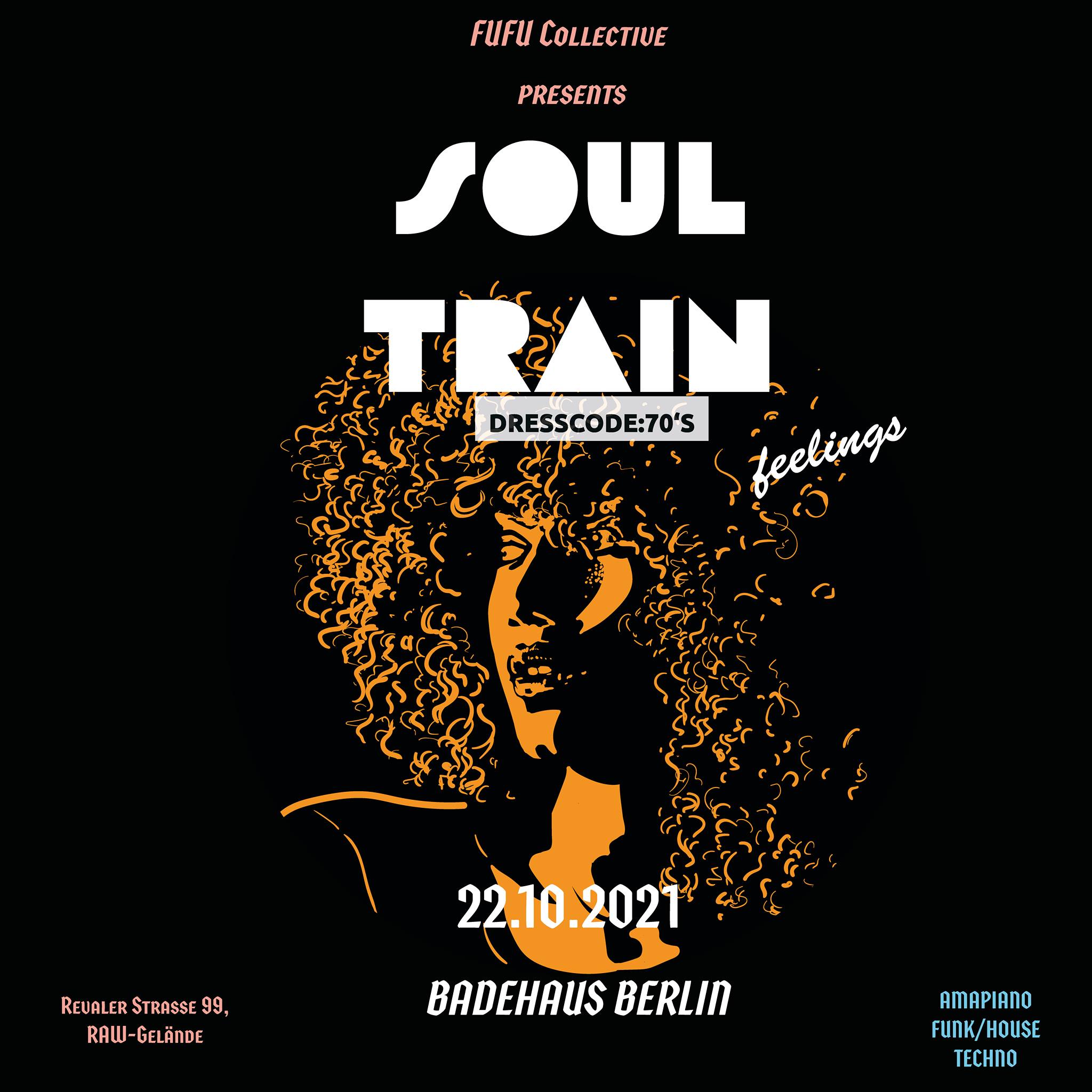 Fr 22.10.2021 | 23:00 UHR
Soul Train Feelings
TICKETS
FB-EVENT
THERE'S NO PARTY LIKE A SOUL TRAIN PARTY!
Let's celebrate the birth of Techno, Hip Hop and all Urban Dance styles.
And let's pay tribute to the civil right movements that gave us a platform for diversity.
"Soul Train" was the first show ever for Black People of Color, a platform for music, dance, community and inspirational fashion.
This show gave our parents optimism, let's continue the Legacy
– 2G (vaccination or recovery)
– Capacity Limited
– Entrance only with registration via LUCA App
– Advance tickets holder are no guaranteed admission if not respecting the club policy
LINE UP A-Z:
ANELE

 https://soundcloud.com/anele_rsa
AUCO

 https://soundcloud.com/auco23
BAN2

 https://soundcloud.com/ban2flow
INDIGO PLATEAUX

 https://soundcloud.com/indigo-plateaux
J.CITY

 https://soundcloud.com/jcloudmusic
DRESS CODE: 70's 

SOUND:

 FUFU period (Urban/Amapiano)

 SOUL TRAIN period (Funk/House)

 FUNKYTECH period (Club/Techno)
*********
ZERO TOLERANCE POLICY:
All genders, orientations, ethnicities are welcome.
All attendees must respect the sanctity of this space by not participating in any hate speech, discrimination, or cultural appropriation.
Please Respect each other and do ask for the Pronouns rather than assuming.
Event organizers have the right to remove anyone who does not adhere to these basic principles of respect.
LOVE, PEACE and SOUL!
FUFU – for Us, for U
*********