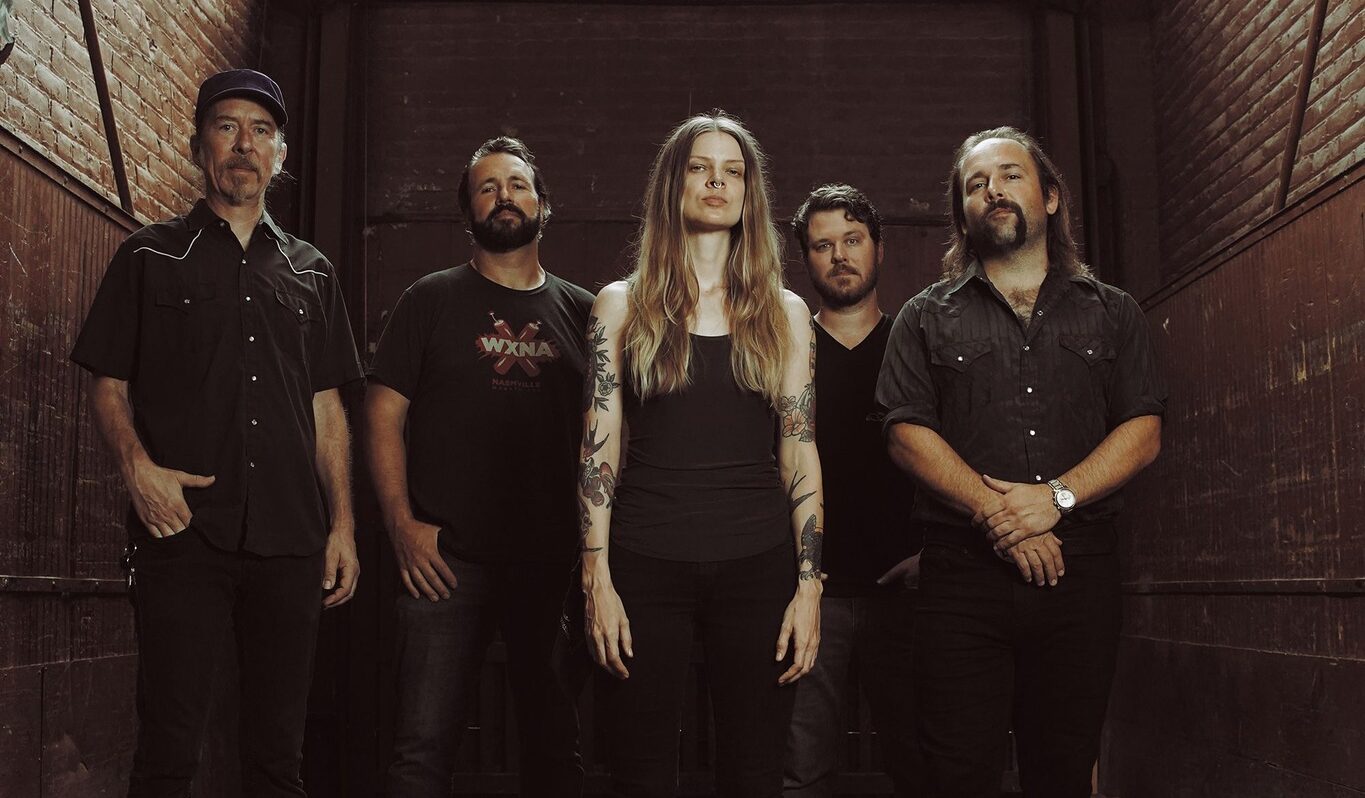 Mi 31.08.2022 | 19:00 UHR
Sarah Shook & The Disarmers
TICKETS
FB-EVENT
31.08.2022
Badehaus Berlin
20 Uhr Beginn | Einlass: 19 Uhr
VK: 20,00 € zzgl. Geb.
AK: tba
upcoming album: Nightroamer 18.02.22
"We are definitely a country band," Shook says. "We're definitely a rock-and-roll band. There is punk rock that flows through the band every night on tour. The point of everything that we do is the music."
"I'm starting to realize that being an outlier and a weirdo––it doesn't have to be a bad thing," says Sarah Shook. Shook pauses, then adds with a grin, "It can be whatever you want it to be." Shook is home in North Carolina, talking about Nightroamer, the hotly anticipated new album from their band, Sarah Shook & The Disarmers. Backed by white-knuckle playing from Eric Peterson on guitar, Aaron Oliva on upright bass, drummer Jack Foster, and Adam Kurtz on pedal steel, Shook has pulled from Hank Williams, Elliott Smith, the Sex Pistols, and Shook's own inquisitive, open, outlying self to create pop-savvy, honky-tonk punk that's both an escape and a reality check––a re-opened wound and a balm. Relationships and life-changing realizations are dissected with honesty and humor, three tight minutes at a time.
"Where is the handbook for relationships that isn't just how to keep your man around for 20 years?" Shook says, "Where is the offbeat situational relationship handbook? I feel like a lot of what I write is that––and most of the time, I don't have the answers. I'm just asking the questions that we're all asking."
When Sarah Shook & The Disarmers released Sidelong four years ago, the irreverent quintet's debut turned heads around the world. Then 2018's follow-up Years hooked everyone from Rolling Stone to Vice. "This ain't no country for hipsters or posers," said No Depression. "It's real, raw, mean-and-evil-bad-and-nasty bidness." Then, the first two albums turned into a tease: The pandemic shut down the world, just as The Disarmers finished recording Nightroamer in Los Angeles. The band has had to sit on the album––until now.
Nightroamer is worth the wait. This is still a band whose recordings beg to be heard live, either in a punk-rock hole in the wall or honky-tonk roadhouse. Shook's voice is crystalline––but boozy, too, with a cadence that sounds comfortable resting in the pocket before lagging, jumping, or cozying up to the offbeat. What initially may feel like a slip is actually a stroke––and listeners cannot get enough.
Shook is also a visible, vocal member of communities often relegated to societal margins. Out as bisexual since they were 19, Shook recently came out as nonbinary as well. For Shook, openness about their identity––as well as struggles including depression and addiction––is just as much about self-preservation as it is offering an outstretched hand. "When I talk about mental health issues, recovery, and addiction, it's because I feel like life is too short to keep the good things we learn along the way to ourselves," Shook says. "I think we each have a responsibility to share information that can transform lives in a literal, palpable sense."
Produced by Pete Anderson, Nightroamer is the confident next step fans hoped The Disarmers could take. "I think this record is different than ones we've done in the past. It feels every bit as expansive as I wanted it to feel," says Shook.
Produced by Grammy-winner Pete Anderson, known for his work as Dwight Yoakam's long time guitarist and producer, Nightroamer is a collection of 10 songs written by Sarah Shook that take a hard look at relationships, but do not claim to have one-size-fits-all answers.