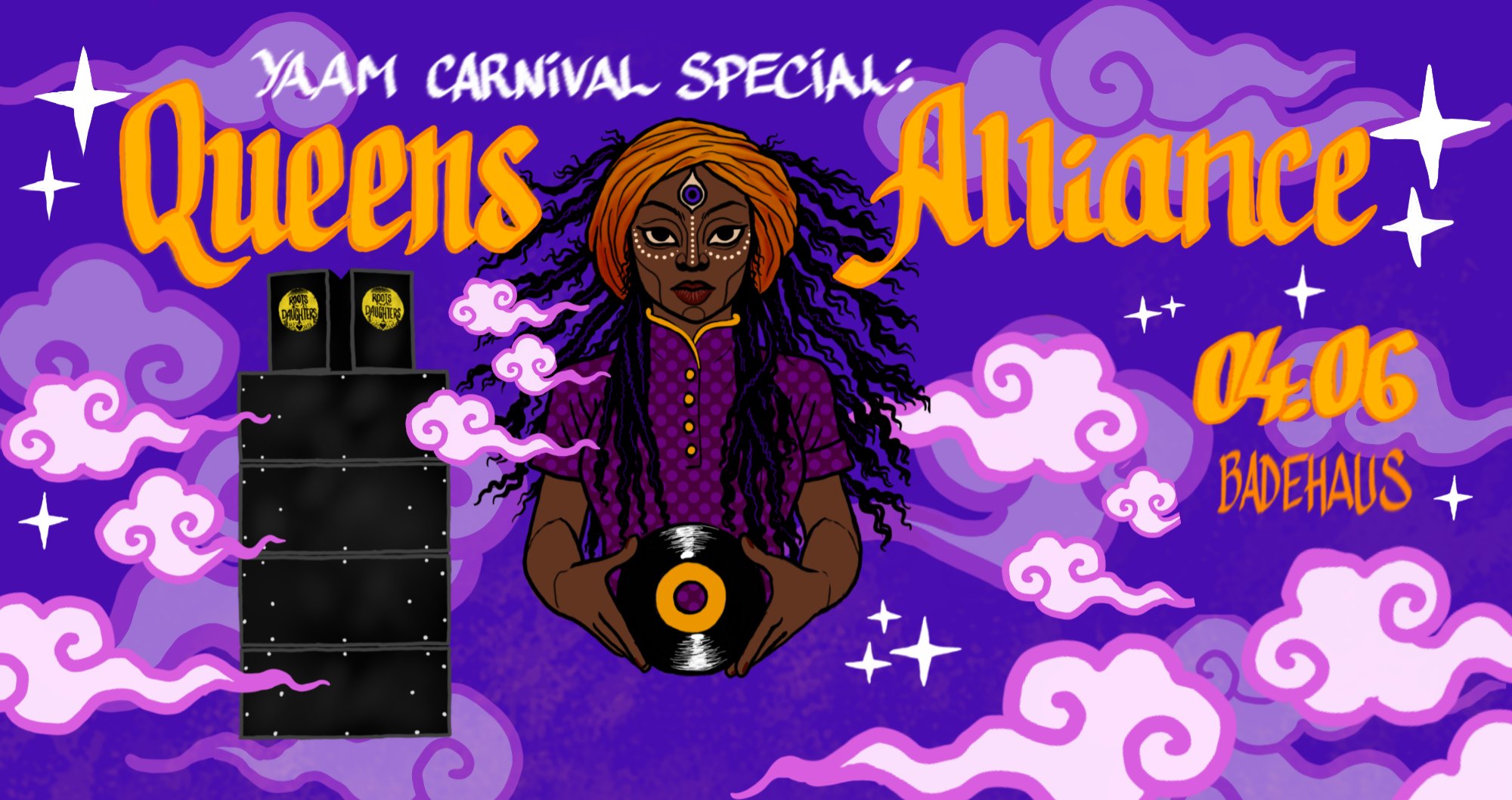 Sa 04.06.2022 | 23:00 UHR
Queens Alliance
TICKETS
FB-EVENT
04.06.2022
Badehaus Berlin
Doors 23:00
adm. 15,-
pre-sale 12,- tba.
YAAM Berlin & Roots Daughters present "Queens Alliance"
A night full of vibes, dubplate and vinyl selections, live MC-ing and a proper, long-awaited soundsystem healing. We're celebrating Roots – Reggae – Dub – Afro – Latin – Funk with a big line up on 2 Floors w/
Sisters in Dub (UK)
Roots Daughters Soundsystem (Berlin)
Calamidades Lola (Colombia/ Berlin)
Tru:L (Berlin/Sibiu)
ZEMA
>>>>>> Soundsystem Floor <<<<<<<
To celebrate the first club show with the new custom-built Roots Daughters Soundsystem, we`ve curated a very special line-up to appreciate the different influences and global evolution of soundsystem culture, with regards to the foundation.
With "Queens Alliance" we`re opening up a platform to share stories and sounds from an underrepresented perspective – so join us in breaking down barriers with the uplifting power of reggae music (and beyond!) through a proper, soul shaking Soundsystem experience.
Line up:
Hosted by Roots Daughters (Berlin)
Heavily inspired by rastafari and Jamaican sound system culture, their sessions are a space of upliftment, sharing vibes, knowledge, music, developing skills and empowering one another. Both are passionate vinyl collectors who will make you experience Reggae Music in all it's beauty and versatility – from its foundations to recent releases.
Before the pandemic they were regularly organising events to represent female* activists in the scene. Now, with their new hand-built sound system they're ready to resume the work and take it to the next level.
https://linktr.ee/rootsdaughters
Sisters In Dub (Coventry, UK)
The all-female Reggae sound system collective comprised of Cherelle Harding, Danniella Dee & Dj Kat. Coventry natives, all 3 of the Sisters have unique musical journeys. From classical training, gospel, reggae, 2-tone foundations & growing up in sound system families. These influences & experiences inspired the birth of Sisters in Dub.
Representing women in a male-dominated space, Sisters in Dub play a mix of meditative dub, deep roots reggae and energetic steppas – incorporating melodic vocals & live instruments to create a unique, vibrant performance; whilst retaining an authentic Jamaican sound system vibe.
Sisters in Dub are undoubtedly the most exciting prospect to emerge from Coventry for some time. The all-female chariot of fire aims to reignite the sound system flame in their hometown and beyond, inspiring the next generation & becoming the future of sound system culture.
https://www.instagram.com/sistersindub/
Zema
the collector, selector and lover of Afrikan / Roots-Reggae / EthioJazz / WorldMusic. In her selections and radio shows she moves through different layers of music, as "Roots" music is as multidimensional as the human mind. Sharing uplifting messages to the masses, with no rules and no boxes to fit in – though she is technically inspired by soundsystem culture when mixing the music she uses her platform to promote authenticity and knowledge of self.
https://m.mixcloud.com/zemamusic/
>>>>>>>Rare Grooves Floor<<<<<<<
Tru:L (Berlin / Sibiu)
Romanian born, Berlin based, founder of Smoothin Groovin, advocate for inclusivity on the dancefloor & diversity behind the decks, Tru:L is bringing passion back into fashion with a mosaic of rhythms perfectly fitted for both the dancefloor and the bedroom. With big love for vinyl and unconventional music connections, her selection of international funk and other musical colors will hit the dancefloor on this special occasion.
https://linktr.ee/TRU_L
Calamidades Lola (Berlin/ Colombia)
Hailing from Barranquilla Calamidades Lola was surrounded by Afro & Latin music since early childhood. Guided by her love of Afro-caribbean music and the Pico Soundsystem Culture – Calamidades Lola frequently travels to her country of origin, to dig up & present finest vinyl gems to honor and introduce her versatile musical & cultural heritage to an international audience..
https://www.mixcloud.com/Calamidadeslola/stream/
Culture Market by Tabatap – Afro Caribbean inspired fashion & more
Fashion https://www.tabatap.com/
Supported by Buyreggae.com
No racism, sexism, homophobia in the dance – Love we a deal with!