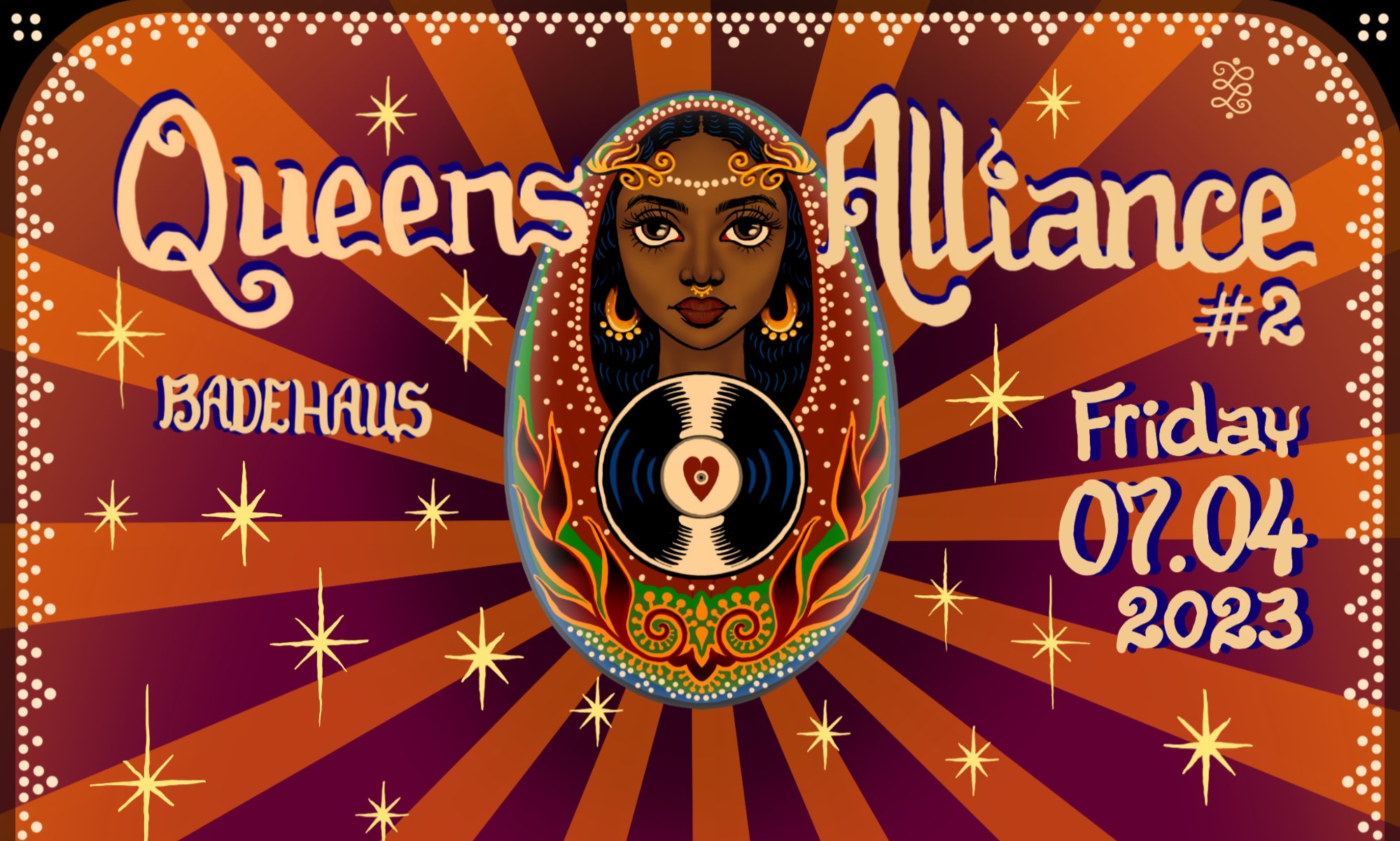 Fr 07.04.2023 | 23:30 UHR
Queens Alliance #2
FB-EVENT
07.04.2023
Badehaus Berlin
Queens Alliance #2
The Roots Daughters and Badehaus invite you to a night full of vibes, exclusive dubplate and vinyl selections, message music, live mc-ing and a proper soundsystem healing session.
With "Queens Alliance" we`re opening up a platform to share stories and sounds from an underrepresented perspective – so join us in breaking down barriers with the uplifting power of reggae music (&beyond!) through a proper, soul shaking Soundsystem experience.
As springtime is here, we want to give thanks and celebrate the transition into a new season & cycle of renewal, growth and nature awakening.
Line up:
Hosted by Roots Daughters (Berlin)
Founded in 2009. Heavily inspired by rastafari and Jamaican/UK sound system culture, their sessions are a space of upliftment, connection, empowerment, sharing vibes, reasonings & music.
They are passionate soundsystem heads & vinyl collectors who will make you experience Reggae Music in all it's beauty and versatility – from its foundations to recent releases.
With their new custom-built sound system they're grateful to take their journey to the next level and share it with the people.
https://linktr.ee/rootsdaughters
Zema (Stockholm)
Zema is a collector, selector and lover of Afrikan / Roots-Reggae / EthioJazz / WorldMusic. In her selections and radio shows she moves through different layers of music, as "Roots" music is as multidimensional as the human mind. Sharing uplifting messages to the masses, with no rules and no boxes to fit in – though she is technically inspired by soundsystem culture when mixing the music she uses her platform to promote authenticity and knowledge of self.
https://www.mixcloud.com/zemamusic/
MC Mad-X (London)
Originating from South London, multi talented MC/Singjay Mad-X was brought up around music. 'I held my first mic at age 8 and by age 11 (unbeknown to the promoters!) I was regularly 'chatting' on the mic for sound systems and at house parties'.
She learned some of her skills from infamous MC's like Horseman, Skanker and Ricky Rankin and worked as an MC/DJ for soundsystems (including Inner Circle, Jackie Marrow, and Ninja Force). Eventually she co-founded the Goldenstar Sound System. Shortly after studying sound engineering and electronics at College, Mad-X started out as a recording artist as well.
Mad-X developed her skills in the dancehalls of London, experimenting with her techniques and style. This backdrop gives her the ability to not only mix and blend different styles of music but also to be able to work with varying crowds and DJ's, creating the fusion which has developed into what is now uniquely her sound. She knows how to level the vibes in any setting.
https://linktr.ee/McMadX
Supported by Buyreggae.com
No racism, sexism, homophobia in the dance!
Love we a deal with!