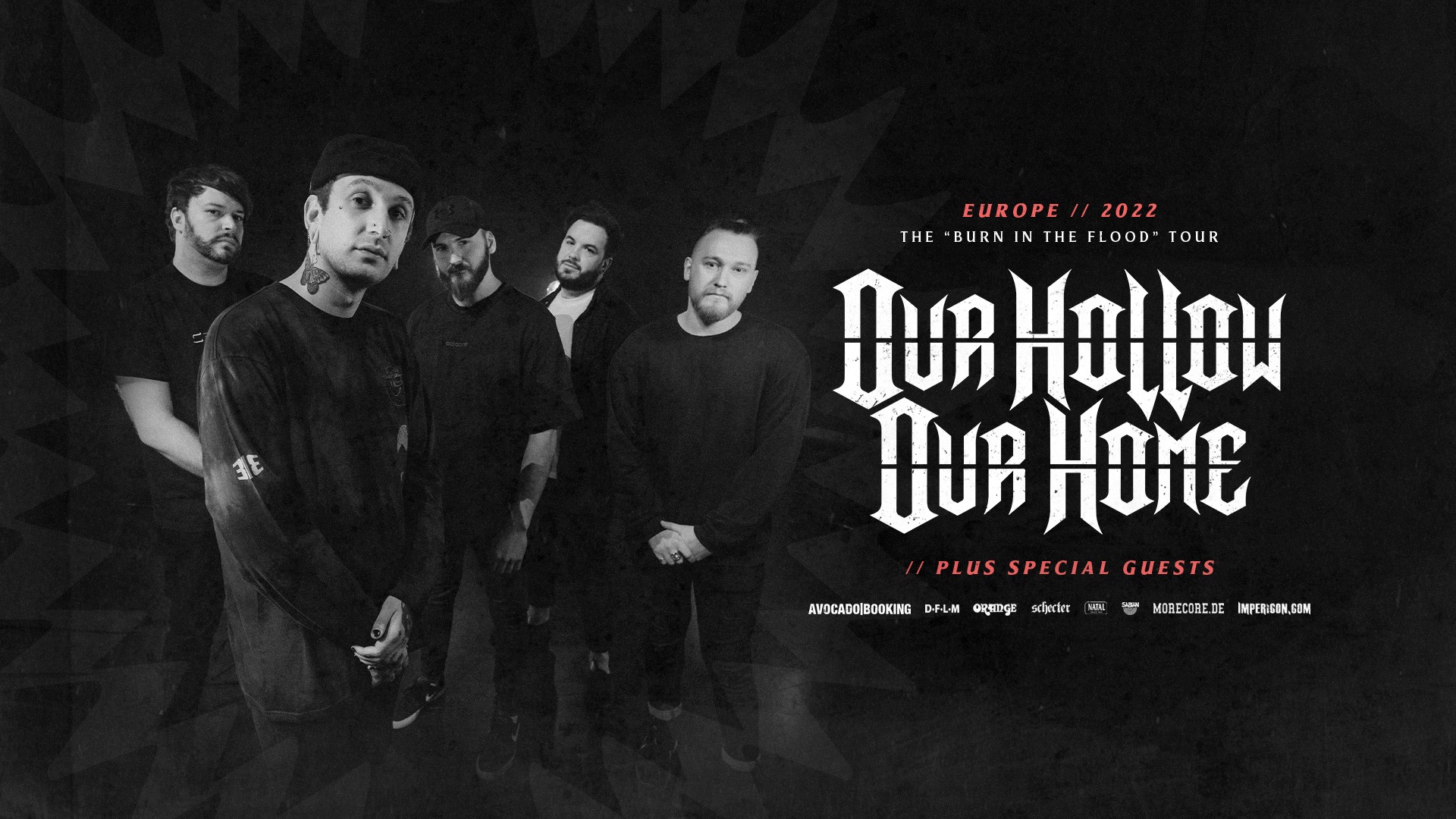 Mo 17.10.2022 | 18:30 UHR
Our Hollow Our Home
TICKETS
FB-EVENT
17.10.2022
Badehaus Berlin
Einlass: 18:30 // Beginn: 19:00
Special Guests:
AVIANA
THECITYISOURS
Fast becoming one of the most important bands to watch in the UK metalcore scene the band formed in 2013 and soon embarked on numerous UK tours ahead of releasing their debut EP "//REDEFINE" in 2015. The following year they went on their first EU tour co-headlining with Imminence.
In March 2017 they independently released their debut album 'Hartsick' to critical acclaim. The album went to #1 in UK iTunes Metal and Rock charts as well as top 10 and top 20 placings in numerous countries including USA, Canada, Australia, Germany, Italy and Mexico. A well timed cover of Ed Sheeran 'Shape Of You' then went to #1 iTunes Metal Songs in the UK and received daytime play on Radio 1.
Over the next 18 months the 'Hartsick' touring cycle saw them complete several UK and EU headline tours as well as tours with Oceans Ate Alaska, Secrets, Glamour Of The Kill & Kingdom Of Giants.
They also played numerous EU festivals including Graspop, Nova Rock, Jera On Air, Summerblast, Fajtfest, Free And Easy, Rock Den See & Traffic Jam Open Air.
Following talks with a number of labels the band decided to independently release their sophomore album "In Moment // In Memory' in October 2018 through their own label, //Hollow Music. The album made the Top 10 iTunes Metal Chart in UK, Canada, Germany, Australia, Japan, Italy & USA.
So far in 2019 they completed headline UK & EU runs and played sold out Scandinavian shows with Adept & Crystal Lake. They have recently headlined a stage at Teddy Rocks Festival,played both Slam Dunk Festival dates,supported Wage War on their UK/EU dates and performed at Camden Rocks Festival. Their summer shows will see them play several festivals including Jera On Air,Fajtfest,Overdrive and Rock Maraton in addition to some shows with Polaris & Bad Omens and some headliners.
To date OHOH have shared stages with the likes of: Underoath, Thrice, Wage War, The Amity Affliction, In Hearts Wake, Don Broco, Funeral For A Friend, Deez Nuts, Obey The Brave, Thy Art Is Murder, As It Is, Crystal Lake amongst others.
They recently released 'Disconnect' as the fourth video from their current album with further video releases scheduled and more tours to be announced soon.