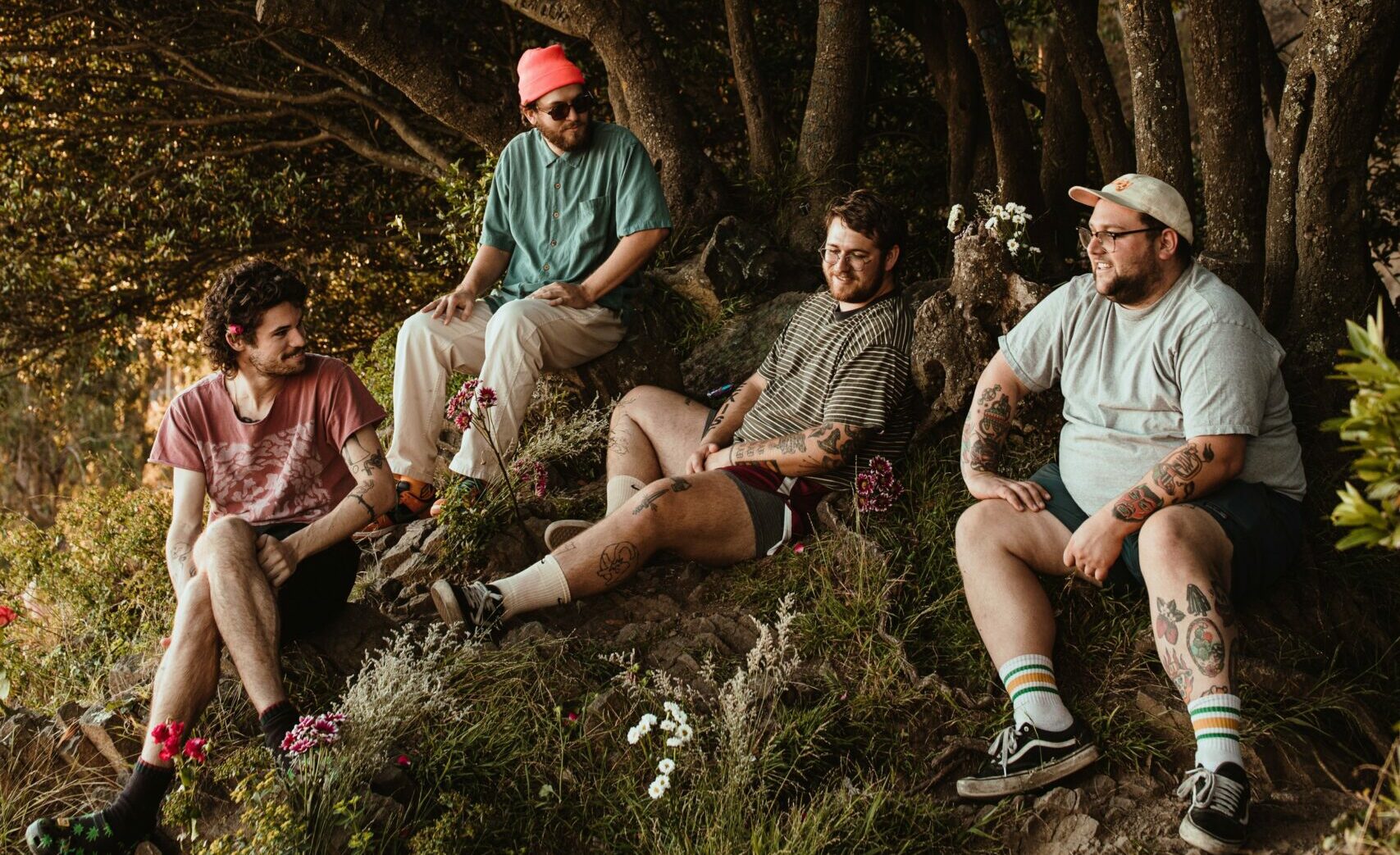 Mi 15.02.2023 | 18:30 UHR
Mom Jeans
TICKETS
FB-EVENT
15.02.2023 Badehaus Berlin
Einlass: 18:30 / Beginn: 19:30
AUSVERKAUFT
Mom Jeans
+ Special Guest: Oso Oso
"Give me something sweet so I can make it through the week/Don't care if I end up with cavities."
This is the plea that opens Sweet Tooth, the upcoming third LP from Berkeley's Mom Jeans. It's the introduction to a quasi-concept record, a structural departure for the emo punk quartet. Before any of the record's 13 songs had been written and recorded, the band knew what Sweet Tooth would sound like: late '90s and early 2000s pop rock and pop punk bliss. For frontman Eric Butler, that meant revisiting the guitar pop perfection of Weezer and Oasis alongside deep cuts from one-hit wonders like Third Eye Blind, Fountains of Wayne, and Superdrag.
Butler, guitarist Bart Thompson, bassist Samuel Kless, and drummer Austin Carango all arrived at the same description for these sounds: ear candy.
"Those hits by Blink-182 and Green Day, all those bands, it's just hooks for days and really excellent songwriting," says Butler. "They really just tried to write incredible songs that would get stuck in people's heads. We wanted to try our own version of that. Ear candy is the goal, so Sweet Tooth is the record."
The result of this expedition into the Golden Age of snotty pop punk and cheeky radio rock is a 13-track hit of musical ecstasy, crammed with delicious guitar crunch and infectious melodics beneath boyish romance, teen-to-young adult angst, and gleeful abandon.
Sweet Tooth, which arrives three years after Mom Jeans' second LP Puppy Love, was recorded in New Jersey at The Barber Shop Studios with producer Brett Romnes (The Front Bottoms, Oso Oso, Dogleg). Butler says it's the first time the band had a proper, top-to-bottom studio experience, which meant no cutting corners, and an ability to chase a previously-unattainable level of polish. Tyler Povanda (Save Face) and Kory Gregory (Prince Daddy & the Hyena) contributed vocals to the record.
The music on Sweet Tooth marked a departure for Butler from his usual writing style. "I fell in love with bands like Modern Baseball and Front Bottoms and Joyce Manor, so I wanted to write songs like that," says Butler. "That's what our first two records were: me trying to stay in that box, cause I think that's where I felt comfortable."
The "ear candy" radio bands that inspired Sweet Tooth were never necessarily considered cool in the way Butler's other influences were. "There's almost a kind of disdain toward commercial success," says Butler. "I didn't wanna think that I was a normie and maybe I'm not, but parts of me definitely are. Parts of all of us in this band definitely are, and we're okay with that."
It's about being able to like something simply because you like it. "There's certain aspects of not really giving a shit and not having so much self-awareness and not trying to be different and cool, and just letting yourself trust your natural instincts, that just feel good," says Butler.
Opener "Something Sweet" announces this new worldview in a perfect pop punk flurry before first single "What's Up?" rumbles in with drums and a Take Off Your Pants And Jacket-ish Tom Delonge riff and Butler's best Mark Hoppus drone: "I'm such a fuck/I'm such a fucking piece of shit and you hate me for it!" It's earworm chorus (complete with a choir of "Ooh la la la" behind it) tries to parse through why we feel like shit with so much going for us: "I should be happy/should be thankful for the friends I have around me, the support of my fractured family/But still I'm just pretending that I'm fine when I'm feeling lousy all the time."
The gleeful folk punk romp "Hippo In The Water" gives way to the sad-sack breakup pop of "White Trash Millionaire:" "If love makes you rich then I would rather be broke instead!" Butler and group vocals declare before a horn-laden outro. Follow-up "Circus Clown" is led by a breezy, saccharine synth melody as Butler, love-drunk, does cartwheels for a crush: "If life's a circus then I'm the biggest clown/I'll trade my love for laughs and let you cut me down."
"Sugar Rush," "Graduating Life," and "LUV L8R" oscillate between swoopy-haired emo pop strummers and Warped Tour mosh-ready pop punk, snapping the brain back to the best bits of Under The Cork Tree before the pure Blue Album waltz of "Crybaby (On the Phone)." "If you're doing a concept album about radio hits, you're gonna do a Weezer-type situation," says Butler.
The closing trio of tracks ratchet down the BPM and dime the emotional punch. "I spent the last ten minutes inside my car, tears streaming at the rear view/Looking back I was so stupid, all I ever wanted was you," Butler mourns on the bawling-in-your-high-school-bedroom chorus of "Ten Minutes." "Teeth" meanwhile flips the record's sugary throughline on its side. The record flames out gloriously in harmonized group vocals, bittersweet guitar leads, and pulsing horns before Butler sings, "You've got no teeth, you were just talking sweet/You were everything to me but now you're just cavities."
Sweet Tooth feels like an eternal dessert-before-dinner, a rejection of the idea that we need to suffer before we get to the good stuff. You've got one life. Indulge your Sweet Tooth.