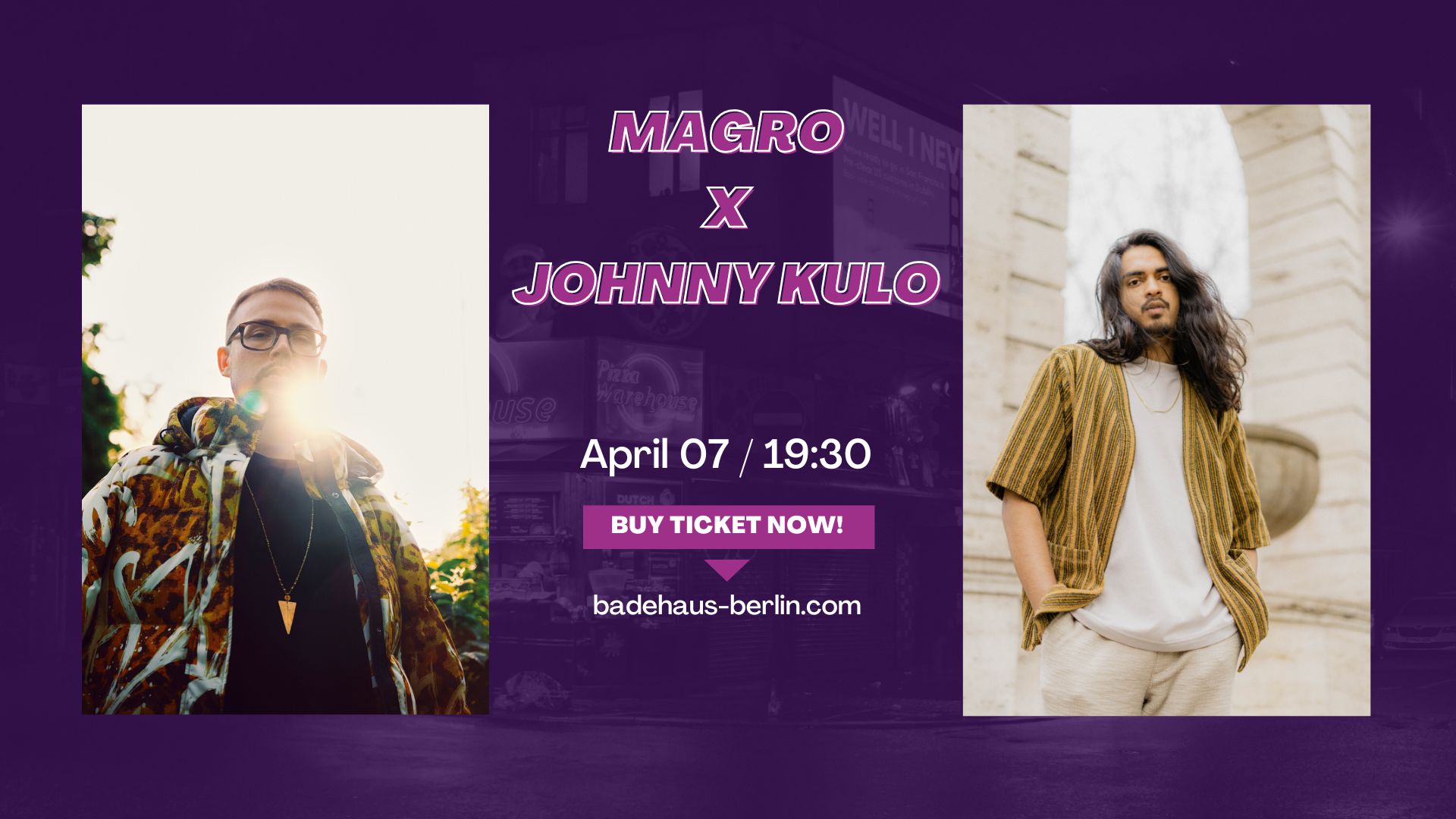 Fr 07.04.2023 | 19:30 UHR
Magro x Johnny Kulo
TICKETS
FB-EVENT
07.04.2023
Badehaus Berlin
Doors: 19:30
Concert: 20:00
Tickets: https://vvk.link/hzc5n
Get ready for a night of electrifying music as Johnny Kulo and Magro take the stage at Badehaus for a double show on April 7.
First up, Johnny Kulo will be performing with his band taking you on a raw and emotional journey through R&B and organic soundscapes evolving into a fresh take on classic R&B.
Next, Magro, an award-winning drummer and producer, will bring his energizing live Hip Hop/Jazz show to the stage. With the recent release of his album "II" featuring Big Yuki and Kenny Wesley, Magro will be sure to keep the crowd energized.
Don't miss out on this double show featuring two of the most exciting and talented artists in their respective genres.
Mark your calendars and grab your tickets now. Limited early bird tickets!
Magro:
Magro – Drums
Rapturous – Vocals
Igor Osypov – Guitar
Martin Lüdicke – Keys
Francesco Beccaro – Bass
MAGRO project combines many of his musical influences such as Herbie Hancock, J Dilla and Chris Dave. After his first album "Trippin" was released in 2021 and was recently awarded with the "German Jazz Prize" (for "Debut Album of the Year"), Magro now released his follow-up album "II" (pronounced: Two).
Over the years, Magro has collaborated with numerous artists as a drummer and producer, including J Lamotta, Stimulus, Yvonne Mwale and Kurt Rosenwinkel. In addition, he has been a producer on many of Leona Berlin's albums and singles – including "Wrong Lane (featuring Snoop Dogg)", "Change" and "Leona Berlin."
Tours and international festival appearances such as Jazzahead, Tremplin Jazz Avignon, Women in Music Festival Zambia and Havana World Music Festival have already taken him around the world.
Johnny Kulo:
Berlin-based, Indian artist and producer, Johnny Kulo is the bridge between old-school soul and modern R&B. The son of a reverend, he was inevitably playing drums in church before he could form sentences – exploring several other instruments, until eventually realizing his love for songwriting and production. He uses his sultry-smooth voice to tell personal and perceived stories of love, heartbreak and unsettled identity with catchy melodies and relatable lyrics that sit on large arrangements screaming musical excellence above all. His latest Double EP 'Desire // Bloom' delivers raw emotions, and notoriously detailed retrospection. A journey that begins in a warm and organic soundscape that evolves into a fresh take on classic R&B. With no intention of running the clock out, he's set to release a string of singles in the coming months.