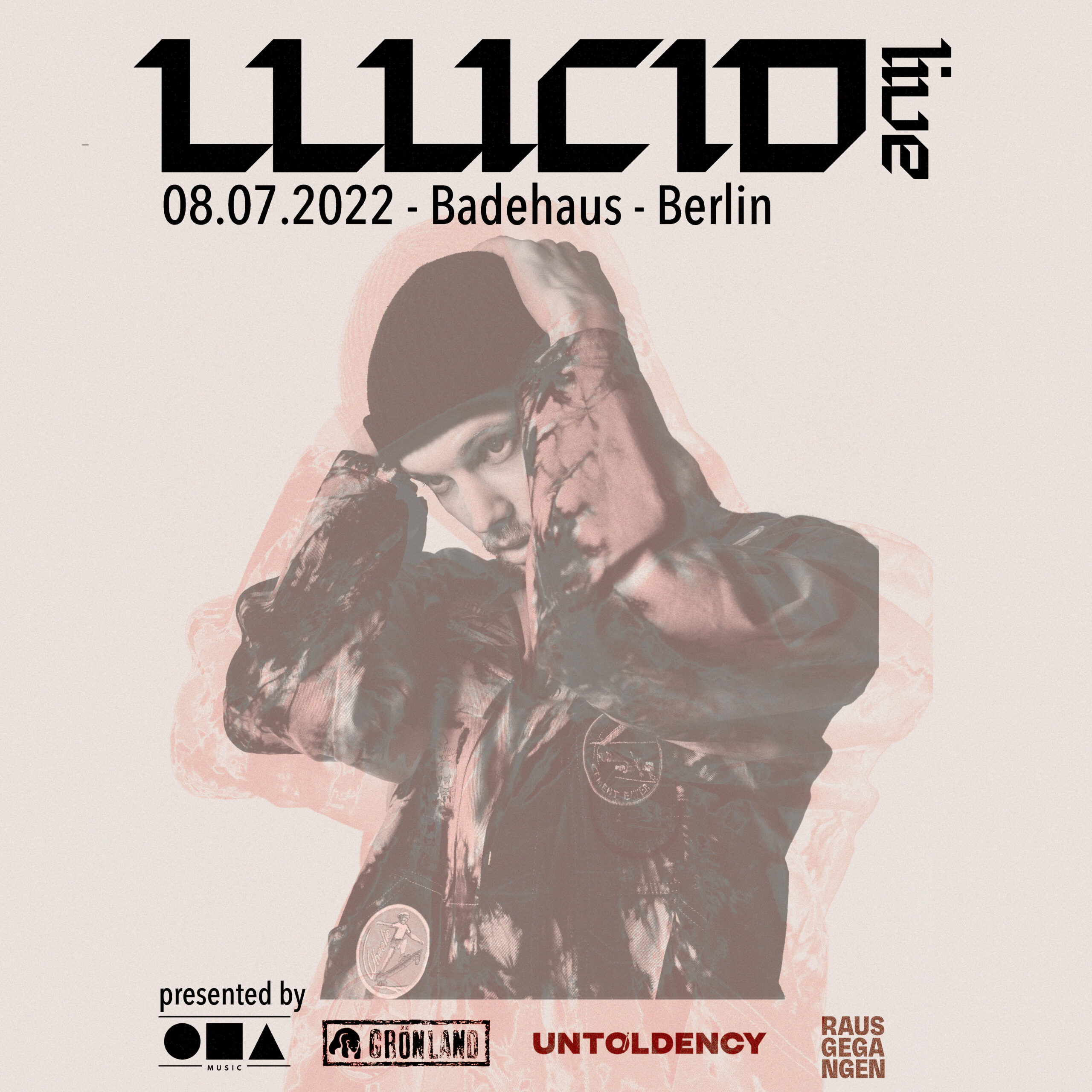 Fr 08.07.2022 | 19:00 UHR
LLUCID
TICKETS
FB-EVENT
08.07.2022
Badehaus Berlin
Support:
Bush.ida
b.elle
Tickets:
12€ zzgl. Gebühren via LYA
https://ohamusic.loveyourartist.store/de/events/6294dfbcc2d17138d2d097fd
We're getting in touch!
On July 8th 22 LLUCID invites us to his Release Show at Badehaus, Berlin. With his debut "Getting in Touch" Berlin based musician, singer and producer LLUCID created six-track EP that "… not only soundwise evokes memories of internationally acclaimed acts like Mac Miller and Yungblud" (Musikesxpress). The energy of his songs translates easily to his live set with live guitar and drums. LLUCID will be supported by Bush.ida and b.elle. Don't miss out!
LLUCID is the type inconspicuous skinny-kid who puts all of his introvert energy into his passion for music while ducking social obligations. Only to return with genre-bending tracks that keep people asking if it's really him rapping & singing when he effortlessly combines nimble rap flows & catchy hooks. Starting out on the drums at the age of 7 LLUCID quickly developed a passion for music which led to learning new instruments and producing his own music. Inspired by artists like J. Cole, Kendrick, Mac Miller and .Paak he carved out his own style combining organic textures with tactile hip hop beats & thought proving lyrics. Always keeping it nonchalant. "The process of coming of age and developing my musical fingerprint has been going hand in hand ever since and music has always helped me stepping out of my comfort zone, coping with bad emotions and such so this is what my music is about." The Berlin based artist has produced music in various genres for artists like Samy Deluxe, Wallis Bird, Wallis Bird, Hundreds, MADANII, etc. LLUCID first gained recognition releasing 2 EPs together with MADANII, a German-Iranian singer, combining alternative pop music with elements of RnB & Hip Hop. The duo has been featured in magazines like Complex, Musikexpress and released an educational series with DocMartins in 2020. 
Bush.ida shaves the scene of dull, consumer glorifying, misogynistic German rap.
Her rap is feminist in the face with a bit of poetic charm and party. The Message: as long as binary gender stereotypes are not overcome, equality is only fashion and not principle, she will have a reason to continue to rap. rap. When Bush.ida is not battling the patriarchy, she appreciates in her lines the fierce women* she got to know on her way through life. Fresh AF and that with the reference in the name – please speak the gap with, otherwise she must cry.
b.elle Singer-songwriter b.elle has been active in the Hamburg music scene since 2019. Her work constantly reflects her diverse artistic influences and life experiences, which she packs into honest intimate lyrics amidst heavy electronic production and soaring light vocals.