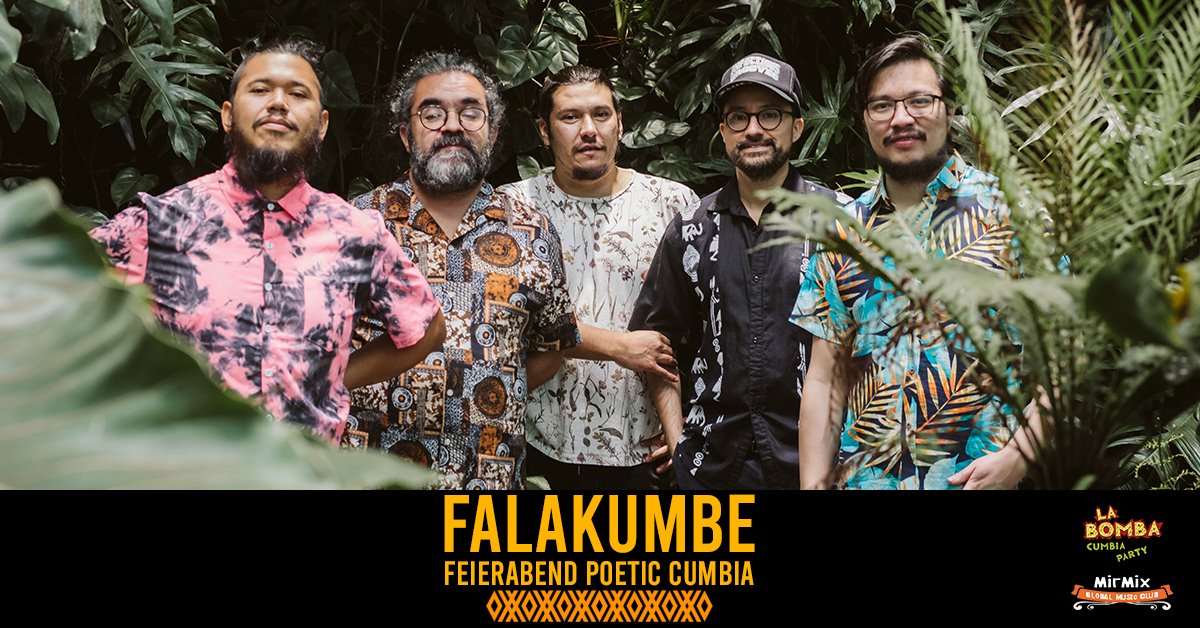 Fr 13.05.2022 | 21:00 UHR
La Bomba w. Feierabend Poetic Cumbia
TICKETS
FB-EVENT
***Postponed from 29.05.2020 to 21.05.2021 to 13.05.2022 – Tickets can be returned at the same place where they were bought.***
Tickets: https://bit.ly/31uqHDi
…∞…LIVE ACTS…∞…
Feierabend Poetic Cumbia | ARG/VE/CL/DE/IT
…∞…AFTERPARTY on 2 FLOORS…∞…
CUMBIA | BASS | LATIN FLOOR
TROPICAL | DOWNTEMPO FLOOR
100 FREE Shots by MexiLove – Berliner Tomatenschnaps
Street Food by Tacombiberlinesa
…∞…FEIERABEND POETIC CUMBIA…∞…
(Latin Rhythms & Postmodern Trova / Berlin)
Based in Berlin, but originally from Argentina, Venezuela, Chile, Germany and Italy, they unite Latin American culture in their songs. With influences from Berlin they process their experiences with the so-called culture shock as immigrants. Their rhythms vary between pop, ska, cumbia, tango, cuarteto and electro with german and spanish lyrics. In a humorous way they tell of the typical misunderstandings of two cultures that meet one another, and of their similarities between the differences.
The name Feierabend was chosen because in Spanish there is no word for leisure time after work and because it also means integration for the band members, because you have to have a job to enjoy your Feierabend time at Poetic Cumbia.
…∞…ENTRY…∞…
9,- pre sales / 13,- box office / 8,- from 0:30
Print@Home: https://bit.ly/31uqHDi
Hard tickets: www.koka36.de & everywhere
…∞…LOCATION…∞…
Badehaus Berlin
Revaler Strasse 99, 10245 Berlin
(auf dem RAW-Gelände, Zugang Höhe Simon-Dach-Str.)
…∞…SUPPORT…∞…
https://prinz.de/berlin
multicult.fm – das Weltkulturradio (www.multicult.fm)
Grooove-Station.net (www.grooove-station.net)
MirMix – Global Music Club (www.fb.com/mirmix)
Cumbia Tropical Latin Bass Events in Berlin
Lado Berlín