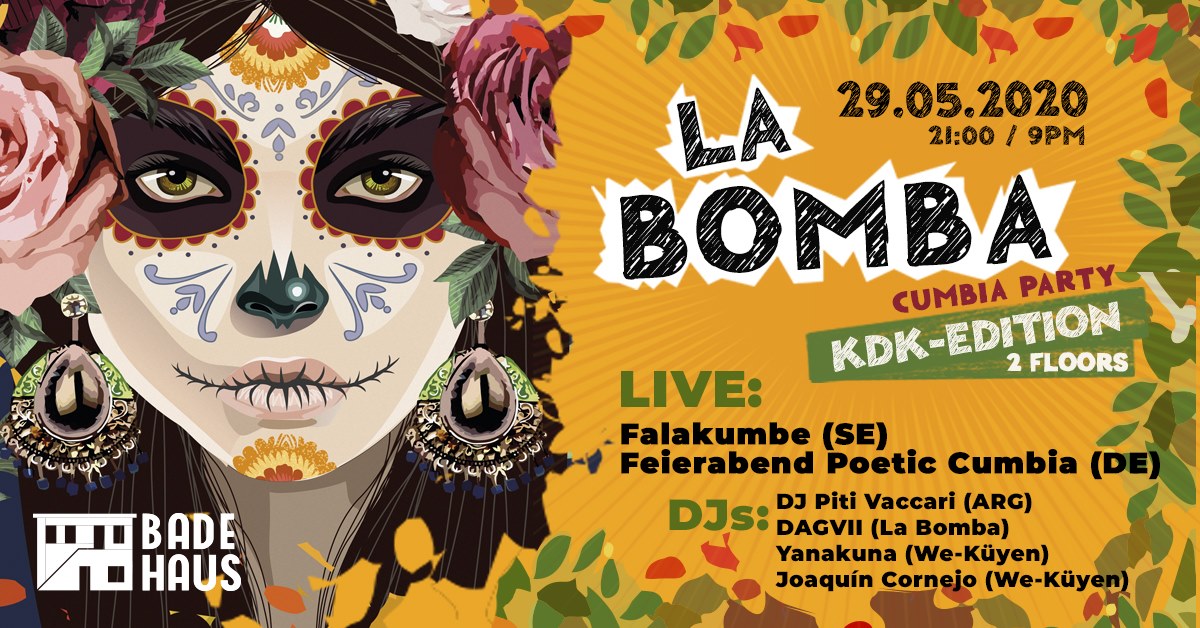 Fr 21.05.2021 | 21:00 UHR
VERLEGT: La Bomba w. Falakumbe & Feierabend Poetic Cumbia
TICKETS
FB-EVENT
Verlegt auf den 13.05.2022, Tickets behalten ihre Gültigkeit oder können an der Vorverkaufskasse zurück gegeben werden!
La Bomba Cumbia Party Berlin goes KdK! For the opening night we have 2 live bands for you: Falakumbe (CL/PE/SE) with Cumbia-Reggae-Chicha-Punk-Mix and Feierabend Poetic Cumbia with Cumbia and different Latin Rhythms from Berlin. DJs ON 2 FLOORS: DJ Piti Vaccari from Argentina and our resident DAGVII will drop lots of Digital Cumbia, Bass & Beats the whole night + Tropical & Downtempo Floor by We-Küyen!
TICKETS: www.flast.info & www.koka36.de
? 100 FREE Shots by MexiLove – Berliner Tomatenschnaps ?
? Street Food by Tacombiberlinesa ?
…∞…LIVE ACTS…∞…
? Falakumbe | CL/PE/SE
? Feierabend Poetic Cumbia | ARG/VE/CL/DE/IT
…∞…AFTERPARTY on 2 FLOORS…∞…
? CUMBIA | BASS | LATIN FLOOR
? Dj Piti Vaccari Kumbia Nena Soundsystem | ARG
? DAGVII | Berlin
? TROPICAL | DOWNTEMPO FLOOR
? Yanakuna (Seaside Trip, Kybele, We-Küyen) | CL
? Joaquín Cornejo (Shika Shika, Urban Cosmonaut Radio) | CL
…∞…FALAKUMBE…∞…
(Cumbia Reggae Chicha-Punk / Stockholm|Sweden)
From the highest mountain of the Andes, the deep Amazon jungle and Latin America's loudest cities, comes the explosive sound of Falakumbe. Cumbia-reggae chicha-punk mixed in a tropical casserole of distorted guitars, güiro and song that melts the stage and the audience together into a one big pachanga.
Falakumbes sweaty and energy-filled shows have made the band been compared with artists as Gogol Bordelo and Chico Trujillo. The band members emigrated from Peru and Chile to Europe. For them, Falakumbe is a liberated place for political resistance through music and dance.
With tremendous scene presence and genuine rebellious joy, Falakumbe succeeds in engaging his audience and creating swinging, euphoric and memorable shows.
http://falakumbe.se
https://spoti.fi/30rZoqz
https://facebook.com/Falakumbe
…∞…FEIERABEND POETIC CUMBIA…∞…
(Latin Rhythms & Postmodern Trova / Berlin)
Based in Berlin, but originally from Argentina, Venezuela, Chile, Germany and Italy, they unite Latin American culture in their songs. With influences from Berlin they process their experiences with the so-called culture shock as immigrants. Their rhythms vary between pop, ska, cumbia, tango, cuarteto and electro with german and spanish lyrics. In a humorous way they tell of the typical misunderstandings of two cultures that meet one another, and of their similarities between the differences.
The name Feierabend was chosen because in Spanish there is no word for leisure time after work and because it also means integration for the band members, because you have to have a job to enjoy your Feierabend time at Poetic Cumbia.
http://feierabendcumbia.com
https://spoti.fi/2QTy8PE
https://facebook.com/feierabendcumbia
https://soundcloud.com/feierabendcumbia
…∞…DJ PITI VACCARI…∞…
Piti Vaccari, a native of Sastre, Santa Fe, Argentina, è festi-diffusora da Cultura Latinoamericana. Produces mixtapes for Dj Piti Vaccari Kumbia Nena Soundsystem, results of deep research in Digital Cumbia / Tropical Bass / BalkanBeat.
Co-producer of Festa Balkumbia no Beco das Artes (Rio de Janeiro) no Bar do Nanam and participates in djs das Terças de Cumbia, Buzios (RJ).
https://mixcloud.com/pitivaccari
https://facebook.com/kumbianenasoundsystem
…∞…DAGVII…∞…
(MirMix – Global Music Club, La Bomba Cumbia Party Berlin)
Boundless as his music, he has traversed the musical landscape since he was a child. His crossover of traditional sounds and modern beats tears down any cultural walls. It is accompaniment, atmosphere, inspiration and comfort all in one – energetic and uplifting to the last drop. At La Bomba he plays digital cumbia mixed with global bass and surprised latin music.
https://facebook.com/djdagvii
https://soundcloud.com/dagvii
https://mixcloud.com/dagvii
…∞…YANAKUNA…∞…
(Seaside Trip, Kybele, We-Küyen)
He is a lovely guest of many downtempo events in Berlin, like Something Slow or with Seaside Trip at Klunkerkranich, resident at Bulbul Berlin. He describes himself as "a South American aborigine, son of the Inti, the rainbow and the magical sound of the wind through the canes."
https://soundcloud.com/yanakuna/tracks
https://facebook.com/Yanakuna-740043689483683
…∞…GRAPHIC…∞…
All our graphic design was made by the lovely Nadezhda Zvonareva
https://facebook.com/nadezhda.zvonareva
https://behance.net/nadezhdaukhanova
…∞…ENTRY…∞…
9,- pre sales / 13,- box office / 8,- from 0:30
Print@Home: www.flast.info
Hard tickets: www.koka36.de & everywhere