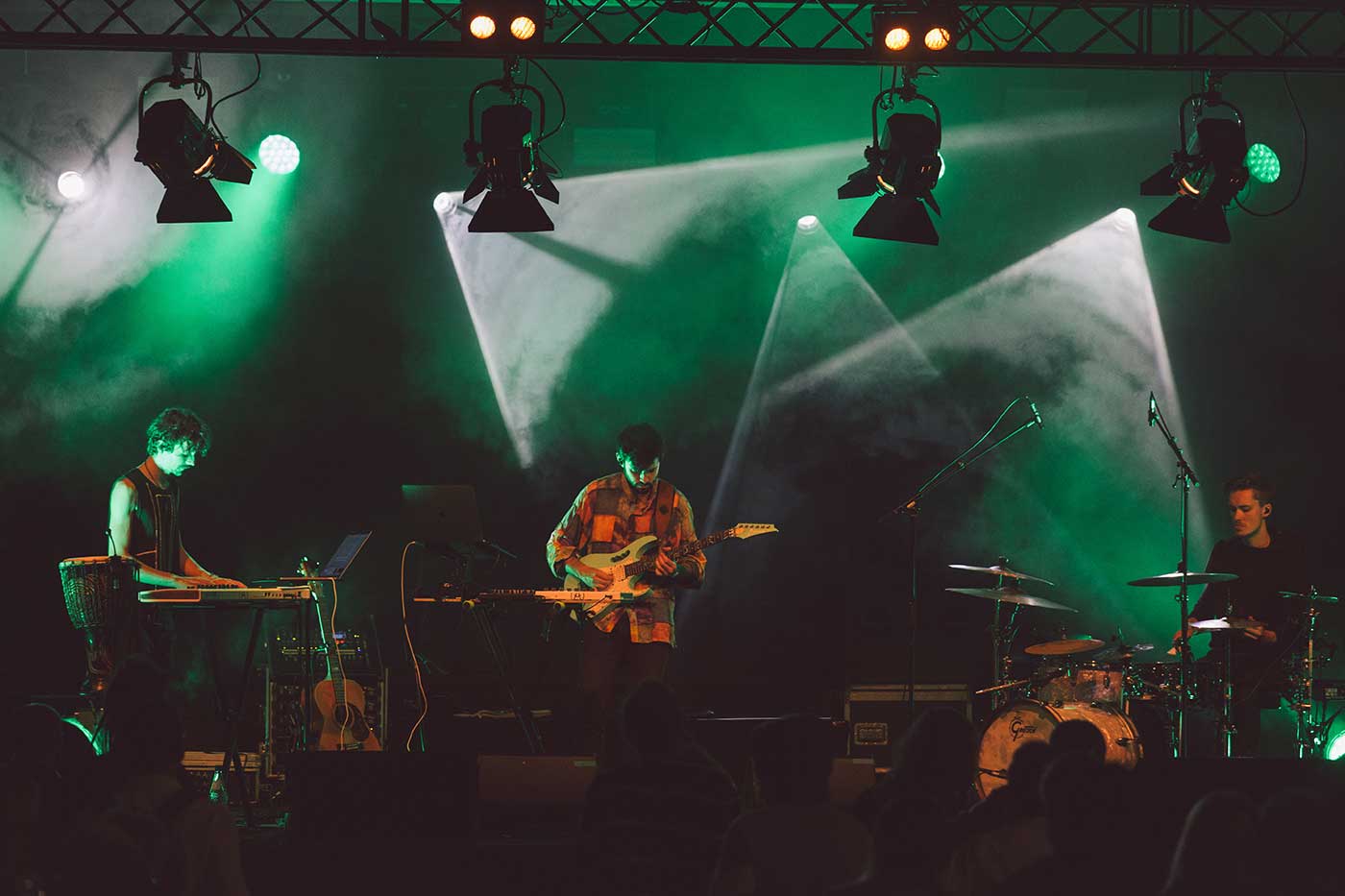 Sa 23.10.2021 | 20:00 UHR
KLANGPHONICS / CATS & BREAKKIES
TICKETS
FB-EVENT
KLANGPHONICS // CATS & BREAKKIES
Deep House. Live. // Organic Electro
Doors: 20 Uhr // Tickets: https://vvk.link/bhpnv
KLANGPHONICS are a trio that produce and perform live electronic music. By using a combination of acoustic instruments and electronic elements, they bridge the gap between producer and live band.
This results in a very natural, organic sound, whilst still retaining the energy associated with deep house and melodic techno. Onstage, drums, guitar and diverse percussion are blended with synths and sequencers, creating a performance that works as well in a club as it does in concert.
Maxl Walmsley Pledl – Guitar, Synths & Production
Ben Kopfnagel – Drums & Percussion.
Markus Zunic – Synths, Saxophone & Percussion.
CATS & BREAKKIES are four young Berliners with jazz in their hearts and techno in their genes. With a classical band line-up – electric guitar, bass, drums, keys – they rock an instrumental dj-live-set on stages, floors and festivals anytime. Always danceable, with courage to elegiac melodies, opulent breaks and rich pads, they convince above all by a precise build-up of tension and tonal dimension in their arrangements. After their debut album Organic Electro (2015), co-produced with David August, had been released, they were nominated for the "Bremer Jazzpreis 2016" in the category "Jazz & Electronics", followed by multiple performances at festivals and clubs, eg. at the Kantine am Berghain, the Tallinn Music Week and the Fusion Festival. With "Spectral" (2018) they stepped up their game yet again. In three individual sets, they weave artful tonal and metric layers, drill thick disco-boards, deliver perfect build up and drop dramaturgy – and above all in a relaxed way put on immense pressure. Cats & Breakkies, that is elegant, straightforward live-techno from Berlin.
Keys / Johannes Gottschick
Guitar / Benedikt Schnitzler
Bass / Bastian Kaletta
Drums / Raphael Kaletta