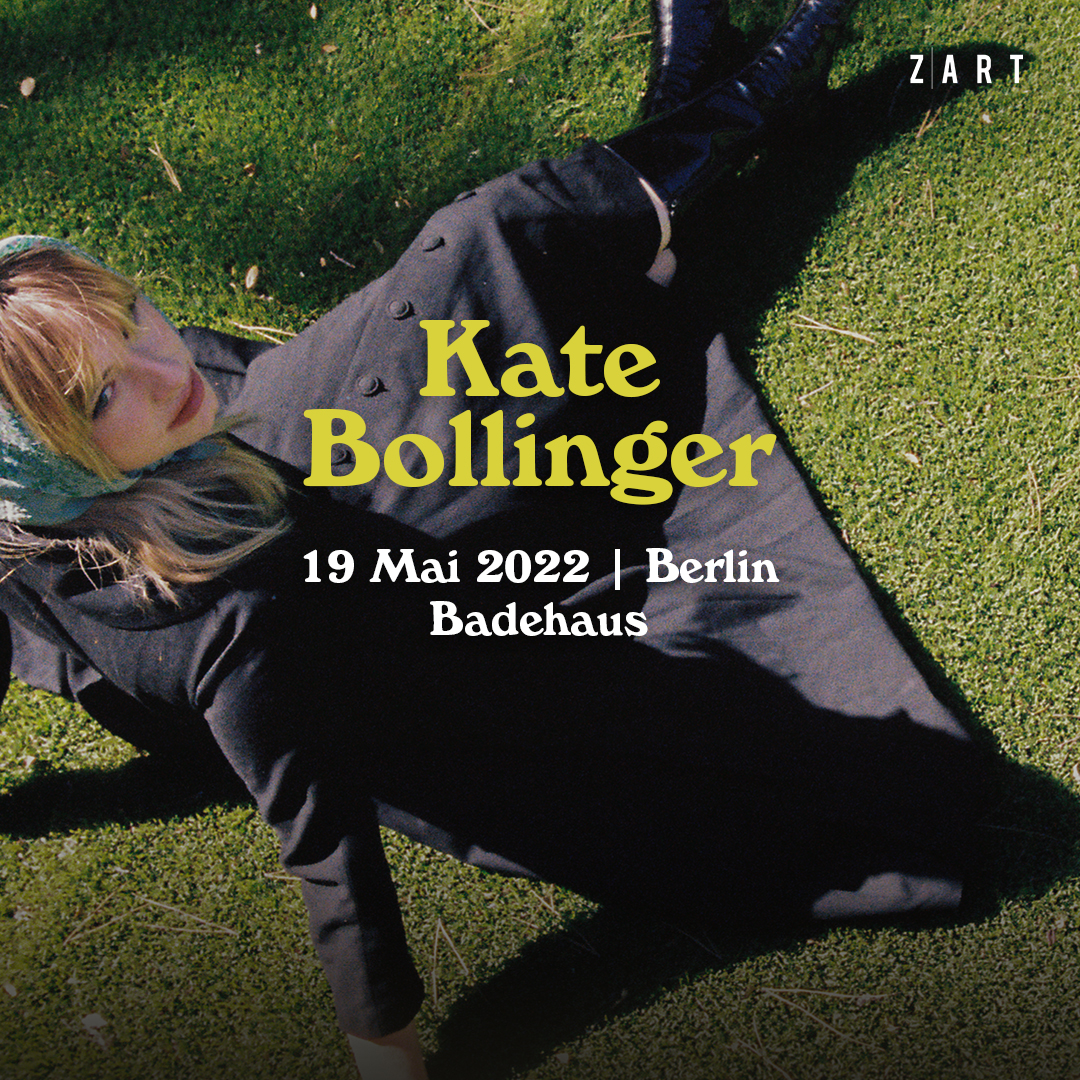 Do 19.05.2022 | 20:00 UHR
ABGESAGT: Kate Bollinger
TICKETS
FB-EVENT
Künstlerin Statement:
Hi everyone,
Thank you for all of the support on my new project! I'm very sad to announce that I unfortunately have to postpone my upcoming Europe tour to a later date. Due to an unforeseen dental emergency, I will not be well enough to play these shows, but we have already begun making arrangements for a postponed tour and I'm very hopeful that we will make it to Europe soon. For the next week (until the end of the day May 4th), net proceeds from soft merch sales will go directly to the live band members who were planning to join me on this run. If you've already purchased tickets, please hold onto them as the rescheduled dates will be announced very soon! Refunds will also be available at the point of purchase.
Thank you for your patience! I can't wait to see you all in Europe.
Love,
Kate
Kate Bollinger | Berlin, Badehaus | 19.05.2022
Einlass: 19:00, Beginn: 20:00
_______
Kate Bollinger's songs tend to linger well beyond their run times, filling the negative space of ordinary days with charming melodies and smart phrasings. She writes them at home in Richmond, Virginia, letting her subconscious lead stretches on guitar, an open-ended process she likens to dreaming. From a chord progression appears a line, maybe a syllable will start to stick, enough to pursue, but she says sometimes the words don't feel like her own, more like shapes that form in the mind's sky. While many are personal and deal with the emotions that surface with finding her place in the world, she'd prefer they be whatever you'd like them to be, to connect with listeners in their own way. Bollinger's musical universe is relaxed, tender, and unassuming; within lives a timeless sensibility, a songwriter's knack for noticing the little things and their counterpoints. Darkness and light, pain and pleasure, reality and escape.
Her project is collaborative; she shoots music videos with her friends and colors each of her folk-pop songs with musicians in her community. An agile group of players with backgrounds in jazz, they recorded her first EP, I Don't Wanna Lose, as live takes in a single day, then slowed it down to build out her 2020 EP, A word becomes a sound. Bollinger sings fast at times; she jokes that can get her into trouble when it comes to playing live, "some of these songs are going to be a mouthful." She's always been drawn to singers in that free-flowing style and got into the habit of writing quickly while watching her longtime collaborator John Trainum work with rappers in the studio.
Forced to finish her last EP in lockdown, Bollinger, Trainum, and bandmates excitedly returned to sessions in the spring of 2021 to explore a new batch of songs, now beginning to surface at summer's end. In August, she shared "Shadows," an introspective psych-pop lullaby characterized by languid melodies, pointed lyrics, and an air of mischief — all on display in the single's surreal music video directed by her childhood friend, Kia Wassenaar. Paste Magazine called the single "warm, dynamic, and inviting."
With a tour underway supporting Real Estate and dates with Faye Webster slated for spring 2022, Bollinger lets the next one fly alongside the announcement of her first-ever label signing. From a forthcoming collection on Ghostly International, "Yards / Gardens" finds Bollinger in full swing, skipping verses of uncertainty above a bright and nimble bassline and kick. Guitarist Chris Lewis weaves throughout, his riffs unravel across the bridge, trailing her lines like ellipses. Written with Trainum and Lewis in their shared month-to-month storage space, "Yards / Gardens" reflects "feeling resistant to change, during a time when it felt like everything was changing," says Bollinger. Growing up has become a motif in her work, but she's never sidestepped the concept in quite this way. Here, self-assured and surrounded by vivid production, she leans back in the grass, letting expectations breeze by, reminding herself she'll tend to things in good time ("I'm viewing days like practice rounds / come next year, I'll know what to do").