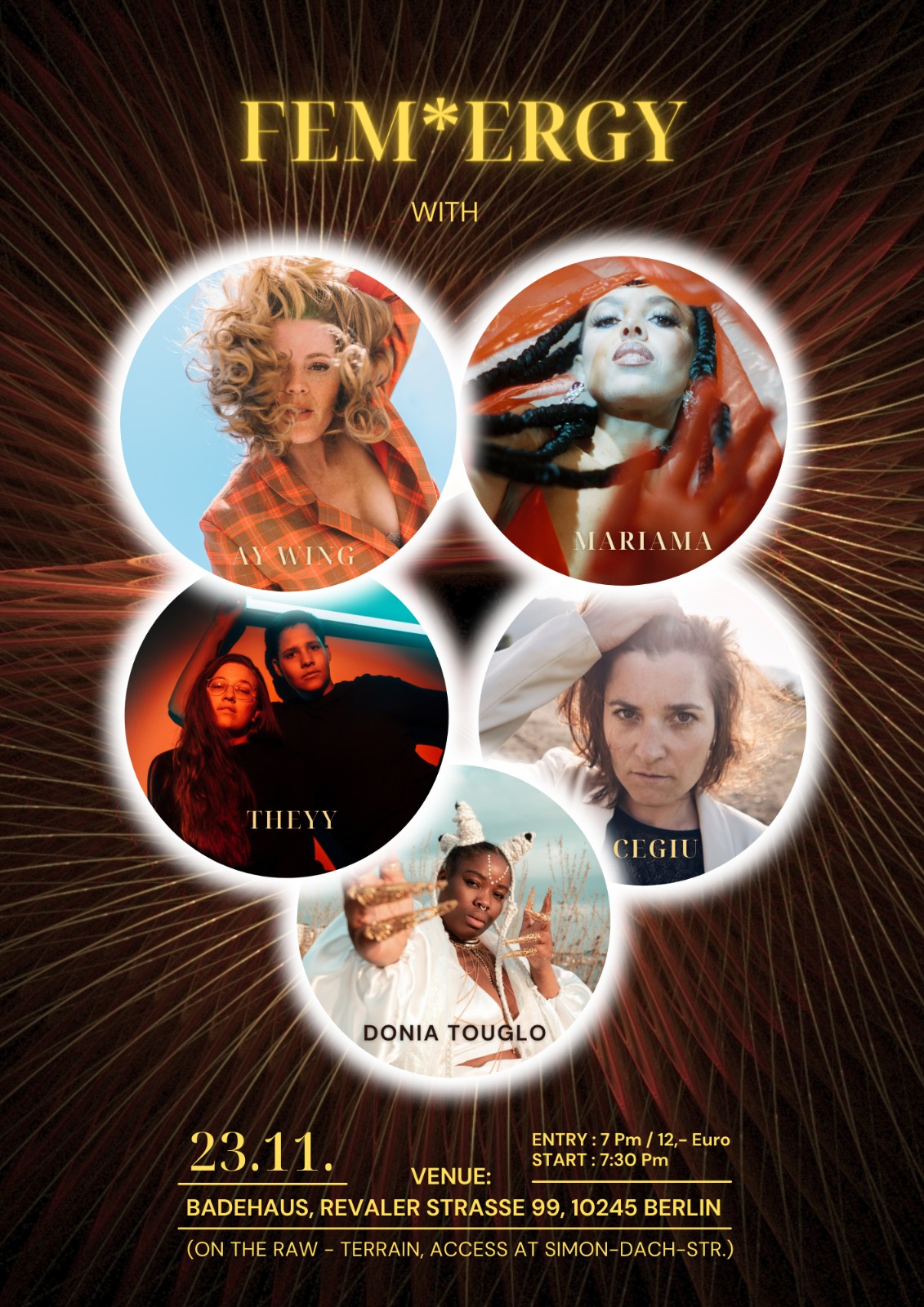 Di 23.11.2021 | 20:00 UHR
Fem*ergy
TICKETS
FB-EVENT
23.11.2021
Badehaus Berlin
Doors: 7pm
Start: 8pm
Fem*ergy
Mariama, Ay Wing, Donia Touglo, Theyy and Cégiu
Trough their music these five artists on the rise collectively hold a space where togetherness, allyship, expressiveness and vulnerabilty are celebrated. You are invited to bring your beautiful self to that space on Nov 23 at Badehaus.
Ay Wing:
Singer, songwriter and producer Ay Wing combines energetic, beat-heavy energetic, R&B-inspired sound with intimate, introspective lyrics.
She has toured Europe (Germany, Denmark, Switzerland, England) and the USA with her music and has opened concerts for acts such as Selah Sue, Sofi Tukker and many more.
Revolvng around the themes of femininity/female energy she expresses herself with wit and confidence.
Since 2019, she has been working closely with German hip hop producer Shuko (Christoph Bauss). Among others, they have produced the highly successful songs "Orange Dreamer", "Antidote" and "Luv Lyve" together.
The hip-hop magazine "UK Hip Hop Talk" even called her "One of the most promising acts of the year".
Ay Wing has worked with internationally renowned artists such as Chuuwee, Patrick Paige and Mark Battles.
Cégiu:
The musician/producer/composer explores a fascinating spectrum, both thematically and musically unique.
To self-produced beats of insect noises, cello sounds and electronics, the variety of her voice is savored in several languages.
Cégiu sings, whispers, screams and sobs about themes such as dementia, role models, natural catastrophes or the
menstrual cycle. The intensity with which the restless artist presents her music can evoke entire worlds of emotion – it is not unusual for tears to flow at her concerts. Cégiu invites listeners to search for their own limits of pain, with her music as an accompaniment for mind and body.
Donia Touglo:
Singer, actress and performance artist Donia Touglo is a citizen of the world. Multidimensional in nature, she shares her earthly experiences through her art. Born in Togo, raised in Germany, she experiences her existence as an ongoing journey of discovery beyond time and space.
From global sounds with West African influences to Afrobeats, Afro-house, electronic, neo-soul, psychedelic pop and more, Donia Touglo draws on a variety of genres and styles and expresses them in her own way.
"Anything that feels good to my soul" or "Soul infused World Jam". This is how the independent artist describes her diverse music and art.
Donia writes her extensive lyrics in Ewe, English, German and in the language of her soul.
She invites her fellow beings on a journey towards themselves and thus the greater whole on which we remind each other how magical, powerful, unique and beautiful we are, individually and collectively.
Mariama:
Freetown, Cologne, Paris and Berlin – traveling is her second nature and inspires the musical border crossings of the singer and songwriter. Voice and songs are infused with her very own warm, delicate sound that carries emotional, personal and authentic stories.
With roots that stretch far across the African and European continents, Mariama is a Cologne girl at heart, a nomad in soul, and moves across genre boundaries while finding and creating her own space in the musical world of a global Africa. For the occasion of the Fem*ergy collective concert she will present her new collection of songs "a Woman alone" which will be released on November 24.
Theyy:
a Hannover/Berlin based duo with a British background who have found a common love in their passion for music. Shanice Ruby Bennett (bass for Kat Frankie, Alli Neumann, Ay Wing) and Erika Emerson (vocals and songwriting for Emerson Prime, Passepartout, Kogi) combine electro-pop, hip hop/rap and neo-soul influences into a genre-bending mix, heavily inspired by artists* such as Sevdaliza, BANKS and Massive Attack. Driven by thick bass, tight beats and vocal soul-fire, THEYY lay the perfect foundation for lyrics that are too honest for some and attempt to normalise issues such as gender-diversity, feminism and mental health awareness. The two musicians* share more than their British roots and humour. While one song never sounds quite like another, the core message of their music is sure to leave a lasting impression.