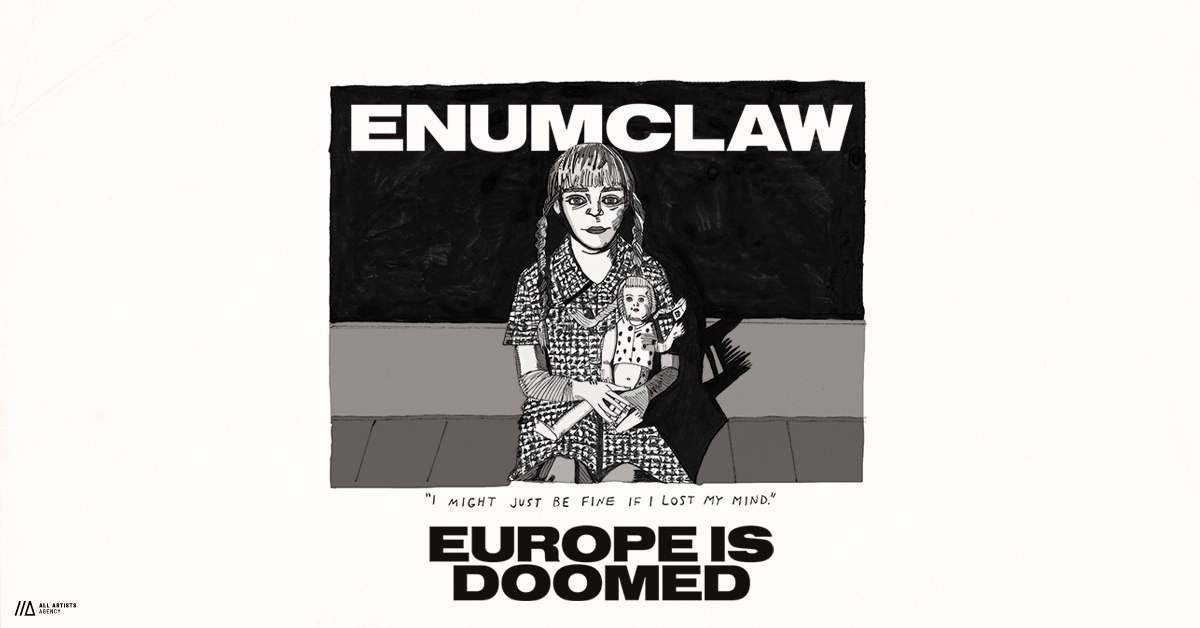 So 21.05.2023 | 19:00 UHR
(VERLEGT) ENUMCLAW
TICKETS
FB-EVENT
21.05.2023 Berlin /// Badehaus
Einlass: 19:00 /// Beginn: 20:00
ZUSAMMENGELEGT – Cassiopeia mit CIVIC
CIVIC | ENUMCLAW
Not since Sub Pop Records put out Girl Trouble's Hit It or Quit It almost 35 years ago has there been such widespread and unequivocal support for a band from Tacoma. Enter from stage left: Enumclaw, whose early singles "Fast N All" and "Free Drop Billy" conjured a swirl of breathless praise from fans and choice publications like Pitchfork and The Fader before striking a single note in front of a live crowd.
Johnson describes Tacoma as a cloud hanging over the band, but not necessarily in a negative way. It's more like an inescapable component of the band's identity. "I honestly thought I was going to move to New York last April," he says. "I was gonna take a break from doing music stuff, to live in a big city and try becoming a photographer. But the band [and its growing profile] ended up keeping me here in Tacoma."
Enumclaw formed in 2019 and played their first gig during the thick of the COVID-19 pandemic, in the gorgeous Lincoln District backyard of a vintage shop/community space that is now rumored to be an Airbnb. (Sadly appropriate for a largely working class town overrun with young professionals priced out of the town's exorbitantly expensive sibling city, Seattle.) Their sound was lovably shambolic, a loosey-goosey strain of indie rock begging to be snuck onto "RIYL: Pavement" playlists even though the band cites Drake as a formative influence.
Since then, they have become veritable road warriors, and criss-crossing the continental United States has tightened them up considerably. After playing shows for barely a year, they're already ready for the big rooms.
Save the Baby, Enumclaw's massive-sounding debut full-length, is a swing for greatness; a collection of simple but life-affirming and deeply personal songs about the importance of chasing after your dreams. Aramis Johnson sings of growing up without a father and having to watch his mom sleep on a couch , so of course his ambition as an artist is to be in one of the biggest bands in the world. "The best band since Oasis," as their earliest motto goes. There's some working class elbow grease running through the gears of these skyward, populist indie rock tunes (garnished with just enough weird).
Produced by Gabe Wax and recorded at ALMA in Tacoma (a multipurpose space including performance stages and a studio), Johnson, guitarist Nathan Cornell, bassist Eli Edwards, and drummer Ladaniel Gipson play with dynamics while taking their songwriting to the stratosphere. The opening title track is divided by a valley of murky haze, sending the uptempo rock of its first movement into the lighters-up moment of its closing section, all thunder and heft. Johnson exclaims his satisfaction with the take before the recording abruptly cuts off, the first in a series of earnest insights into the joy of getting to achieve his ambitions. New wave synths color "Paranoid," "Somewhere" is augmented by dreamy, ambient effects.
Johnson's personal experiences heavily color Save the Baby, titled as such because he's basically preserving the dreams he's had since he was a young child to make a mark on the world. It's an album, in spite of romantic relationships going sour and the pressure that comes with being a young Black man who grew up with a fair share of hardships, about the importance of following your dreams. On "Park Lodge," Johnson sings about watching his mother sleep on a couch and the survivor's remorse of a friend's mental health deteriorating as his own rock music stardom is on the ascent. "It's about the feeling of being stuck in Tacoma," Johnson says. Just like a lot of people in the Black community feel like they have to make it out through sports or rapping, I have to make it out with the band. I feel like this is mine and the band's only option to do something in a real way with our lives."
Johnson's father passed away from sickle cell anemia when he was just 10-years-old, his mother walked for miles to a job at Subway, and his family subsisted on food provided by EBT cards. His best friend when he was younger was diagnosed with schizophrenia. ("I feel like if I were the one who had gotten sick, he would have handled it better than I did," Johnson says, the aforementioned survivor's guilt heavy in his voice. Wouldn't you aspire to be in one of the world's biggest bands if those things happened to you?
On "10th and J," a striking, pulsating rock song tinged with melancholy, Johnson sings of destiny, something he believes in greatly. Save the Baby is an album about stepping into your purpose, about the determination it takes to not give up on yourself. "It really felt like it was my last shot to make it out of here, from a mental perspective, from a career perspective," Johnson says. As Johnson plays the chords of "Apartment" on acoustic guitar, he sings, "Hey! You've got one last chance! / Why not give it all that you can?" It's essentially a letter to himself, reminding himself to put his all into pursuing the rock star dream. For himself, for his loved ones, for all the people he's known who never made it out of the cycle of trauma.