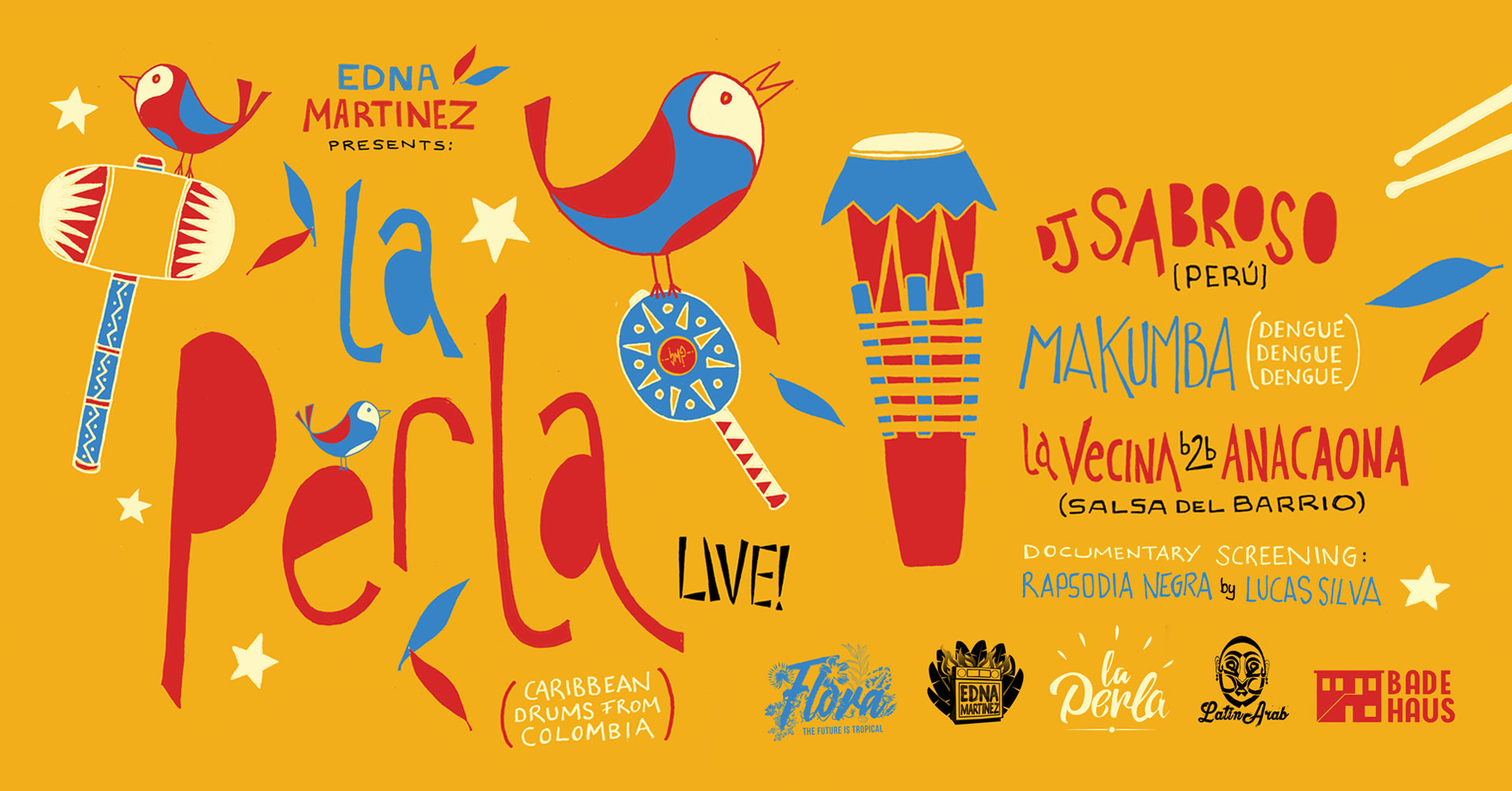 Fr 19.11.2021 | 20:00 UHR
Edna Martinez presents: La Perla live!
TICKETS
FB-EVENT
19.11.2021
Badehaus Berlin
Doors: 8PM
Film screening: 9PM
Konzert: 11PM
Ende: 5AM
A night dedicated to the microcosmos of Afro-Caribbean rhythms, Peru's once-forgotten cumbia scene meeting tropical futurism and salsa vinyl. Honouring genealogies and powerness of traditional Caribbean music we welcome LA PERLA! a core of explosive percussion and voices ensemble from Bogota oficial selection of WOMEX World Music expo 2021. DJ SABROSO, researcher, collector master of Peruvian chicha will spin special gems. By the hand of MAKUMBA member of the well known electronic duo DENGUE DENGUE DENGUE there will be a gate into proper tropical futurism. One floor of the floor of badehaus will be dedicated to the salsa spirit of latin quarter by the b2b from ANACAONA (Venezuela) and LA VECINA (Colombia).
Als opening the debut in Germany of film RAPSODIA NEGRA by LUCAS SILVA A journey into the secrets of the Colombian Pacific coast with portrait about Alfonso Córdoba is one of the last Afro-Colombian griots of the 20th century.
Curator and host of the night is EDNA MARTINEZ Artist/DJ who will also play a special Champeta set.
Artwork by NICK HENDERSON
LA PERLA: The three-woman core of explosive percussion and voices ensemble, La Perla, came together in 2014 to compete in the national Bagpipes Festival in Ovejo, from which they walked away with the first prize and a determination to continue as a band. The three Bogotanas have travelled the rural regions of Caribbean Colombia investigating the musical languages of bullerengue, cumbia, merengue, gaita, and kreyol champeta, learning and incorporating them into their own songs, while lyrically highlighting their social concerns, calling out political chicanery, racial injustice and sexual discrimination. Their 2017 debut EP, Paren La Bulla (Stop the Noise), and Netflix's use of the track, Bruja (Witch), in their drama series, Always a Witch, brought them international attention and touring opportunities in the Americas and Europe. After the hiatus, now continuing in 2021.
DJ SABROSO: Alfredo Villar, aka DJ Sabroso! The artist, curator, writer and teacher is currently for first time in Europe presenting an exhibition of Chicha poster art in France and has been integral to promoting and preserving the history and awareness of this Peruvian offshoot of Cumbia after local interest was lost in the 90s. By collecting thousands of Chicha records and starting the legendary club series "SONIDO INCA" in his home city of Lima, Alfredo is now recognised by the Smithsonian and the Rockefeller foundation as the premiere source on this cultural inheritance, as well as accrediting Chicha as a serious topic for study. He is also a HELL of a dj so DO NOT miss this chance to witness a part of Peruvian Chicha club culture and see Dj Sabroso live!
MAKUMBA: Rafael Pereira is one of the the well-known electronic music duo Dengue Dengue Dengue from Peru, which fuses African, Middle Eastern and even Afro-Peruvian sounds.
LA VECINA b2b ANACAONA: Ein floor only dedicated to the upteampo descarga and Salsa del Barrio!Anacaona
DJ selector from Venezuela. Hot boogaloos and hard salsas that land smoothly on the soul
Amanda Chartier from Colombia will open the musical night with a fine selection of Afro-Colombian beats and classic salsas.