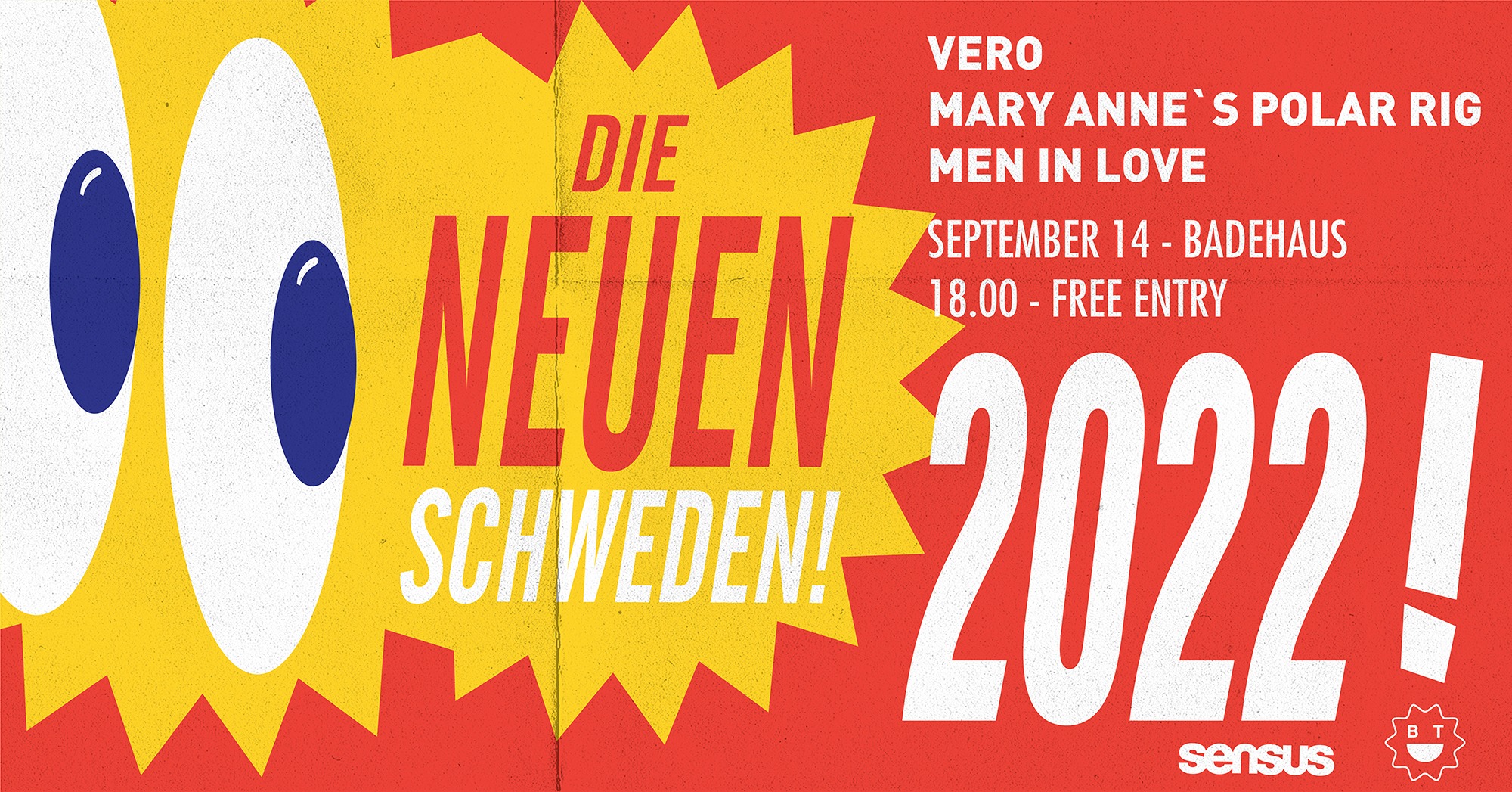 Mi 14.09.2022 | 18:00 UHR
Die Neuen Schweden 2022 – Showcase
FB-EVENT
14.09.2022
Badehaus Berlin
MUSIC NETWORKING AND SHOWCASE IN BERLIN /
Project: June – September
Showcase: September 14th
*The entrance for the showcase is via sign up. Info is coming soon
DIE NEUEN SCHWEDEN 2022:
VERO
MARY ANNE'S POLAR RIG
MEN IN LOVE
The three bands have been selected by a jury consisting of different professionals from the music industry in Berlin:
Marie-Christine Scheffold (booking Selective Artists, founder faemm)
Daniel Meinel (editor FluxFM)
Silvia Silko (freelance journalist for Missy Magazine, Tip, Tagesspiegel)
Rike van Kleef (booking Audiolith, founder faemm)
Wido von Wienskowski (booking RBK Fusion)
Liv Toerkell (editor NBHAP)
Antonio Cardenas (management Heartfelt Management)
More info about the bands:
VERO (Stockholm)
On their bold and brilliant debut album "Unsoothing Interior", Stockholm's Vero reflect the nature of life itself. Their songs prioritise feeling over perfectionism what feels or sounds, best creating a record that tumbles through its contents with tense of unpredictability, excitement and curiosity. It's an album full of raw guitar riffs that spin and swirl and fizz, and evoke the spirit of artists like Sonic Youth, Garbage and Pixies.
Music: https://open.spotify.com/artist/2LsDmxmf4PpOYXeHYOuWKD…
MARY ANNE'S POLAR RIG (Malmö)
Mary Anne's Polar Rig is a 4-piece fuzz pop band led by front woman Malin Hofvander. Since their inception in 2016 they have established themselves as the overall wearing punks that balance 90's in-your-face rock with pleasant pop-esque songwriting. In 2018 the quartet debuted with their first 7″ "Surfaced" via Malmö-driven Kollektivet Records.
Music: https://open.spotify.com/artist/6sQHZ9lZp32fl2ilcTOLqR…
MEN IN LOVE (Göteborg)
Men In Love is a psychedelic pop duo from Gothenburg who released their self titled debut album this year February 14th (ding ding!). Exploring a deeply personal brew of styles and sounds, the album moves seamlessly from 50's Doo-Wop to 80's synth Mania via a 60's Kaleidoscopic dream. It's about reaching adulthood only to realize that nobody knows exactly what is going on. With emphasis on melody, harmony and structures, the band has combined classic songwriting with elements of modern production to create tantalizing and catchy music.
Men In Love describe themselves as sweet and intelligent, yet discreetly mischievous and surprisingly sexy – a savoury blend of past and present, body and mind, dream and reality, adult and child. Enjoy the expedition!
Music: https://open.spotify.com/artist/3aSIFZjKEykRHPBYdiKwmJ…
WHAT IS DIE NEUEN SCHWEDEN?
Better Things and Swedish educational institute Sensus return with their highly acclaimed project "Die Neuen Schweden".
The program gives three solo artists, bands, orchestras, or whatever setup you might have, the possibility to learn about the German music market.
As a hybrid concept, we kick off the project with a digital knowledge program from June to August and then invite all three bands to Berlin where they get the chance to meet Berlin based booking agents, labels, journalists, managers, promoters. As the absolute highlight, all three bands will play a showcase in front of fans and music professionals.