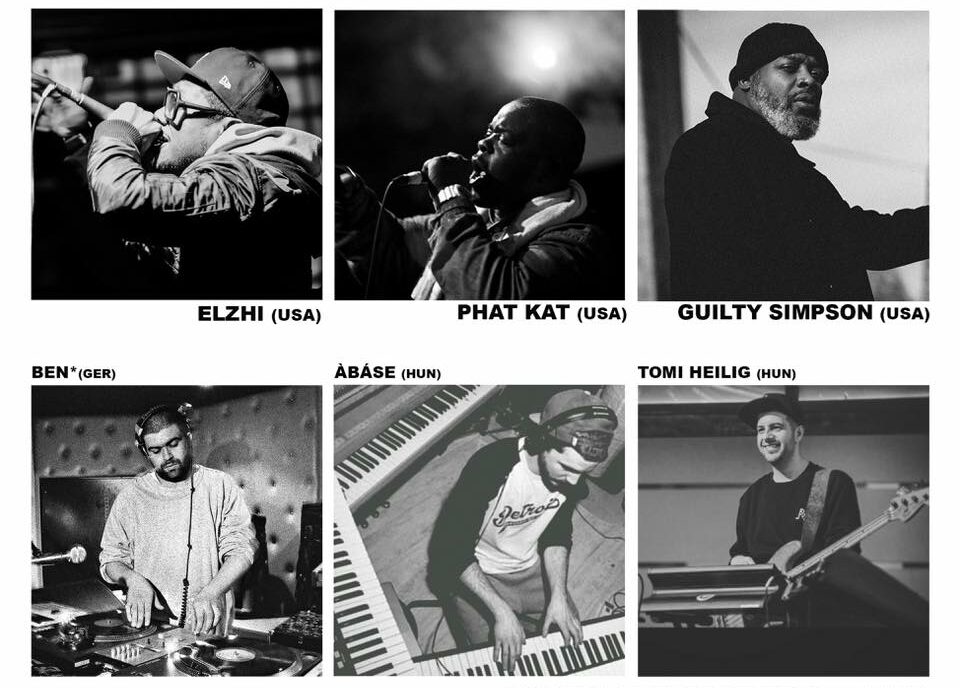 So 03.09.2023 | 19:00 UHR
DETROIT MAKES THE WORLD GO 'ROUND
TICKETS
FB-EVENT
03.09.2023
Badehaus Berlin
turntable JAZZ pres.
DETROIT MAKES THE WORLD GO 'ROUND!
feat.
ELZHI (Zhifi Music / L.A. & Detroit)
GUILTY SIMPSON (That Simpson Guy Music / Detroit)
PHAT KAT (Money Truck Music / Detroit) live!
supported by:
ben* (Yasiin Bey's Official DJ, turntable JAZZ / Cologne & Tunis)
Àbáse (Wayne Snow, Oshu Records / Berlin & Budapest)
Tomi Heilig (Oshu Records / Budapest)
What Up Doe!!
In late summer 2023 turntable JAZZ is bringing three of the most talented and respected MCs from Detroit back on the road and together with turntable JAZZ founder and label boss BEN* the MCs gonna travel, starting in late August in UK & Africa, before they tour all over Europe in September.
Their common link is producer legend J DILLA who started his career along PHAT KAT as 1st Down in the early nineties.
ELZHI got introduced to a bigger audience on the BBE Beat Generation Series "Welcome 2 Detroit" of J DILLA that also featured PHAT KAT and many other MC Legends of the Motorcity. There is a lot being said & written about JAMES YANCEY aka J DILLA and one telling fact is that he refused to work on some JAY-Z sessions because he wanted to finish the promised work of another one of his favourite hometown poets GUILTY SIMPSON first.. Loyalty and reputation reign over shortcuts to fame.
This should tell you not only what kind of guy J DILLA was but also what incredible talent this third MC GUILTY SIMPSON got in store and he was ready to show the world the following years and never failed too deliver.
ELZHI became the hottest young aspiring MC the whole rap world was talking about and soon replaced J DILLA as MC in SLUM VILLAGE when he was focusing on his solo and producer career before he passed in 2006 as a legendary musician that transformed the whole music world. Please read DAN CHARNAS incredible "Dillatime" book to understand better his impact and life..
PHAT KAT dropped "Cold Steel" soon after his old friends transition and GUILTY SIMPSON first LP "Ode To The Ghetto" on Stones Throw Records also featured productions form J DILLA, MADLIB, OH NO & BLACK MILK with whom he later also formed RANDOM AXE the supergroup featuring the late SEAN PRICE.
All three MCs continued to release LongPlayers with various producers and are still holding the torch that J DILLA passed them and Motown ́s lyrical ambassadors.
When turntable JAZZ and YASIIN BEY ́s official DJ and long time friend BEN* joined them on their last tour in March of this year they not only organised a live show in Berlin's URBAN SPREE they also spent some days in the newly opened BREWERY STUDIO / ANALOGUE FOUNDATION.
BEN*s former DJ partner ERIK BREUER who builded all the RED BULL MUSIC ACADEMY STUDIOS worldwide just started his new project and introduced BEN*s to SZABOLCS BOGNAR aka ÀBÁSE from Budapest who lives and works in Berlin since a couple years and produces in the very same studio his upcoming LPs.
After a Session with JACK WHITE ́s drummer DARU JONES the two fell in musical love with each other and agreed to continue live sessions together and decided to invite TOMI HEILIG to join them on bass & moog synths for this Berlin Gig.
Well this idea showed to be another good one and they recorded in some days new versions of the songs of PHAT KAT & GUILTY SIMPSON using the new SERATO STEMS feature as basis and transformed the duos hits and signature songs into something new or better reborn classics that they performed at the live show on stage.
The two Detroit MCs also understood the value of this studio time and when BEN* asked them to record a video snippet as promotion for the tour and agreed directly.
Not 5 minutes later the band transformed the posse song "All Madden" from producer AGOR in a completely new live version and recorded the video without further rehearse in one take. The same night they posted the video and it went viral and everybody including HipHop legendary producer PETE ROCK reposted the song and asked for more of this heat.. well here we go.. excited to welcome the very first tour dates of this new power squad and are blessed to also have the third MC of the original song ELZHI this time on board. The six gonna record finally the full version of "All Madden" in the same Berlin studio and are hitting stages worldwide afterwards together as full live band.
They are also working on more new versions of the MCs incredible back catalogue and also started already to work on their own new LP together.
This time you ll be able to witness the full power of the guys yourself in a city near you and get a live show that is going to be remembered. Turntablism meets JAZZ, analog synth cords and heavy basslines topped by top notch raps, slamming punchlines, heart-warming poetry and delivery of Motown Top MCs..
GET READY!
Line Up:
ELZHI (Zhifi Music / L.A. & Detroit) _ mic IG:@elzhi
GUILTY SIMPSON (That Simpson Guy Music / Detroit) _ mic
IG: @guiltysimpson
PHAT KAT (Money Truck Music / Detroit) _ mic
IG: @phat_kat_aka_ronnie_euro
BEN* (Yasiin Bey ́s official DJ, turntable JAZZ / Cologne & Tunis) _ turntables
IG: @turntablejazz
ÀBÁSE (Oshu Records / Berlin & Budapest) _ keys
IG: @abase_music
TOMI HEILIG (Oshu Records / Budapest) _ bass
IG: @tomiheilig