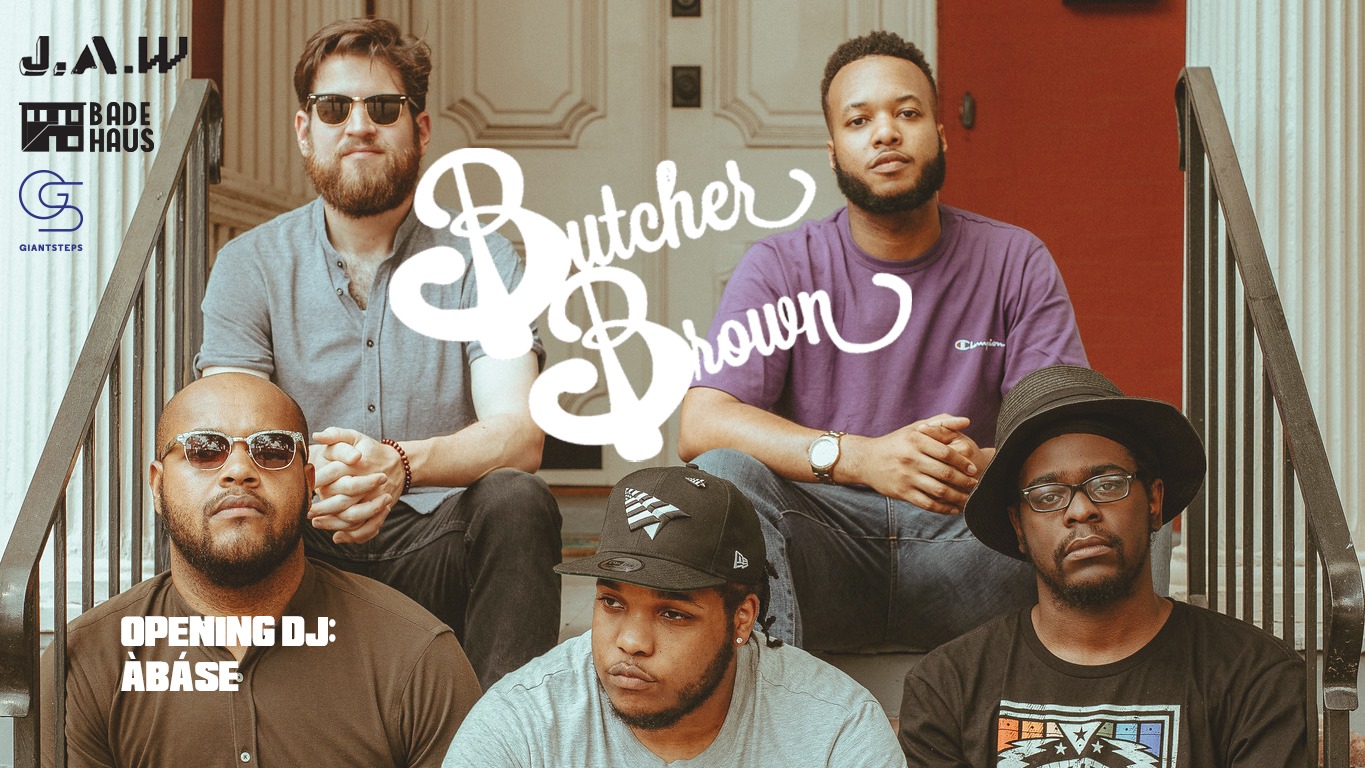 Mo 25.10.2021 | 19:00 UHR
Butcher Brown
TICKETS
FB-EVENT
The show is postponed for 25.10.2021. The purchased tickets are still valid for that date, or you can get a refund here.
This event finds place under the 2G-regulations. Guests must show proof of recovery or full vaccination to be admitted.
JAW Family, GiantSteps and Badehaus Berlin proudly present:
Butcher Brown
25.10.2021 Badehaus Berlin
Doors: 19:00 / Start 20:00
Tickets: http://bit.ly/butcherbrownbadehaus
Butcher Brown is an up-to-the minute throwback to the great progressive jazz bands of the 60s and 70s. Whilst all members were born after the mid-70s golden age of fusion, their modern, hip-hop-inflected funk has rich echoes of Weather Report, Return To Forever, early Earth, Wind & Fire and, perhaps, a pungent whiff of Frank Zappa. Like those bands, Butcher Brown's unified sound comes from the intertwined talents of the five members, each bringing something unique to the mix.
—
Warm Up DJ: Àbáse
On a quest for global grooves of unity, Àbáse is the imagination of Hungarian born Berlin based producer and keyboard player Szabolcs Bognár. Creating an exquisite blend of West African, Brazilian, hip hop, electronic and jazz music, he is set to release his debut album 'Laroyê' on the 5th of November via his own new record label, Oshu Records.
Support: Moses Yoofee Trio
Moses Yoofee Trio is one of the many projects by pianist/producer prodigy Moses Yoofee.
Expect broken beat, hip hop, fusion and psychedelic jazz in a power trio set up.
Noah Fuerbringer – drums Roman Klobe – bass Moses Yoofee Vester – keys
Gefördert von: Die beauftragte der Bundesregierung für Kultur und Medien und Initiative Musik im Rahmen des Förderprogramms Neustart Kultur.