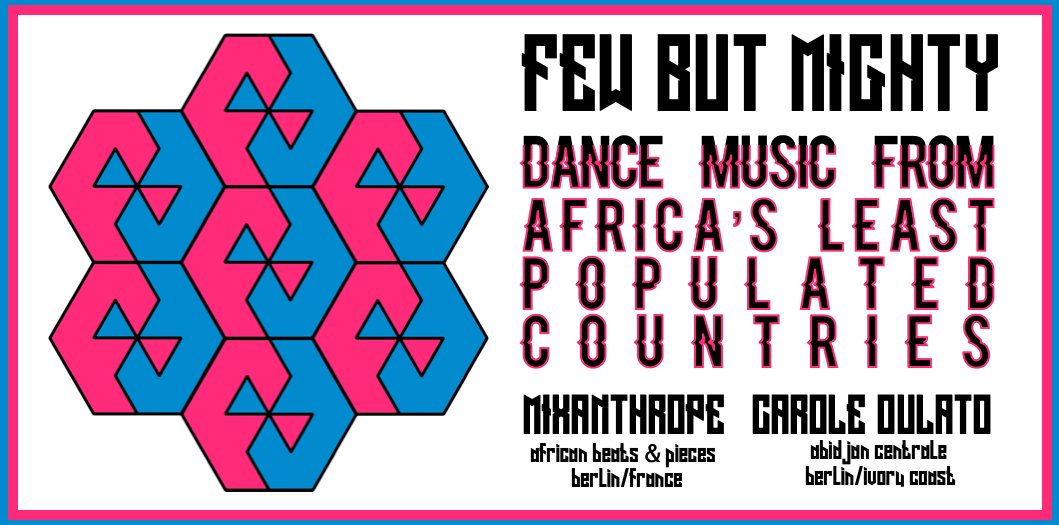 Sa 04.03.2023 | 23:30 UHR
African Beats & Pieces | Few But Mighty
FB-EVENT
04.03.2023
Badehaus Berlin
11.30 pm | Badehaus Berlin
Entry: 10 €, with Facebook-RSVP 8 €. (Cheaplist-Deadline: Friday, 03.03. – 2 pm)
► Mixanthrope (Berlin/France) | African Beats & Pieces
► Carole Oulato (Berlin/Ivory Coast) | Abidjan Centrale
"African Beats & Pieces" is an event series in Berlin dedicated since 2017 to the music made in Africa and throughout its global diaspora.
With a focus on lesser-known artists, we strive to showcase the diversity of sounds and songs African and Afro-diasporic musicians have to offer, doing so through theme-specific parties involving passionate DJs & diggers.
We kick off our 2023 program with "Few But Mighty", a dance party zooming in on the lesser-known/heard/played music from the least populated countries — less than 5 million people!— of the continent. Leaving aside from a moment the enormous outputs from overbearing giants such as Nigeria, Ethiopia and South Africa or the D.R.C., we will let vibes & voices through the speakers that we seldom hear on European dancefloors:
Botswana | Cabo Verde | Central African Republic | Comoros | Eritrea | Djibouti | Equatorial Guinea | Gabon | Gambia | Guinea-Bissau | Lesotho | Mayotte | Mauritius | Mauritania | Namibia | La Réunion | São Tomé und Príncipe | Seychelles | Swaziland |
Music doesn't always travel well outside the borders of smaller countries. Beyond the barrier of language and other cultural hurdles, it is also due to a lack of an infrastructure pushing the sounds and stories outwards: the local market is not considered scalable enough to justify investments. In the case of poorer countries, state support can be lacking and there isn't enough of a wealthy and influential diasporic community to spread the word around the world and invest back in the music scenes back home.
Musicians from smaller countries are like anywhere else inspired, active and willing to reach out though! They find ways to share their music on the Internet outside of paid platforms and other established networks… which sometimes reaches the ears of DJs & diggers elsewhere ooking for different sounds.
Jumping around from genres to regions & from local hits to hidden gems, Mixanthrope (African Beats & Pieces, Berlin/France) and Carole Oulato (Abidjan Centrale, Berlin/Ivory Coast) will share a wide selection of HUGE danceable songs from Africa's SMALLEST countries. 🙂
Come with an open mind & leave with sore feet!
► Mixanthrope (Berlin/France) | African Beats & Pieces
► Carole Oulato (Berlin/Ivory Coast) | Abidjan Centrale