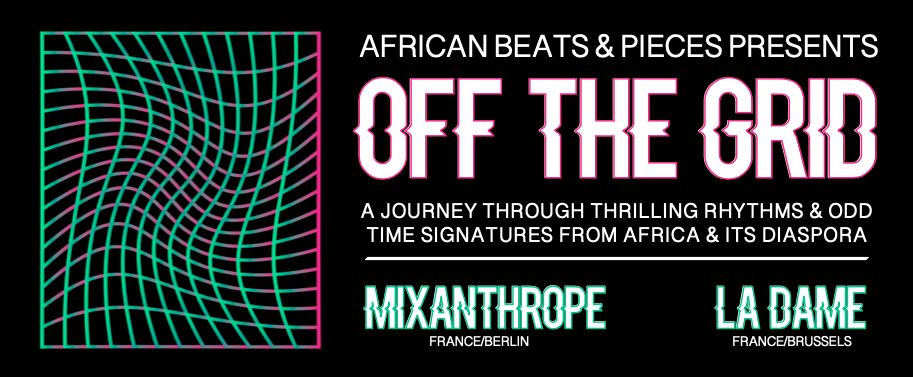 Fr 02.06.2023 | 23:30 UHR
African Beats & Pieces
FB-EVENT
02.06.2023
Badehaus Berlin | 11.30 pm – open end |
Entry: 12 €
► La Dame (France/Belgium) | Yuku / Banoffee Pies
► Mixanthrope (Berlin/France) | African Beats & Pieces
★ ★ ★
"African Beats & Pieces" is an event series in Berlin dedicated since 2017 to the music made in Africa and throughout its global diaspora.
With a focus on lesser-known artists, we strive to showcase the diversity of sounds and songs African and Afro-diasporic musicians have to offer, doing so through theme-specific parties involving passionate DJs & diggers.
★ ★ ★
We continue our program with an invitation to step off the grid: welcome to a dance party driven only by non-binary beats, exhilarating rhythms and odd time signatures that are seldom heard on European dancefloors!
African & afro-diasporic musicians have long been at the forefront of bringing unusual rhythmical patterns rooted in tradition to the forefront of contemporary pop, electronic and hip-hop productions, pushing the boundaries of genre-blending and danceability. Leaving aside the lazy lull of four-to-the-floor tracks, this will be an opportunity to freshen up the eardrums, try out new moves, look for one's steps in uncommon places and (re-)discover body parts that may have long been forgotten about. 🙂
We are very exited to welcome a highly talented outernational guest for this shindig: La Dame, a French DJ now based in Brussels who is famous for her eclectic global club offerings and tasteful mixing techniques, which may be heard on high-caliber platforms such as Kiosk Radio (Brussels) and Le Mellotron (Paris). A prolific producer, she has released albums, remixes and tracks for labels such as Blanc Manioc (FR), Wonderwheel Rec. (US), Yuku (CZ) and Banoffee Pies (UK).
Jumping around from genres to regions & from local hits to hidden gems, from Niger to Maputo, from Cairo to Cape Town, DJs Mixanthrope and La Dame will spin a wide selection of dangerously danceable songs.
Bikutsi | Ikoku | Bendskin | Marrabenta | Maloya | Shaangan | Montegènè | Kabiye | M'Balax Rap | Chimurenga | Salegy | Mahraganat | Congotronics | Ethio-Pop | Assiko | Ndombolo | Gumbe & more!