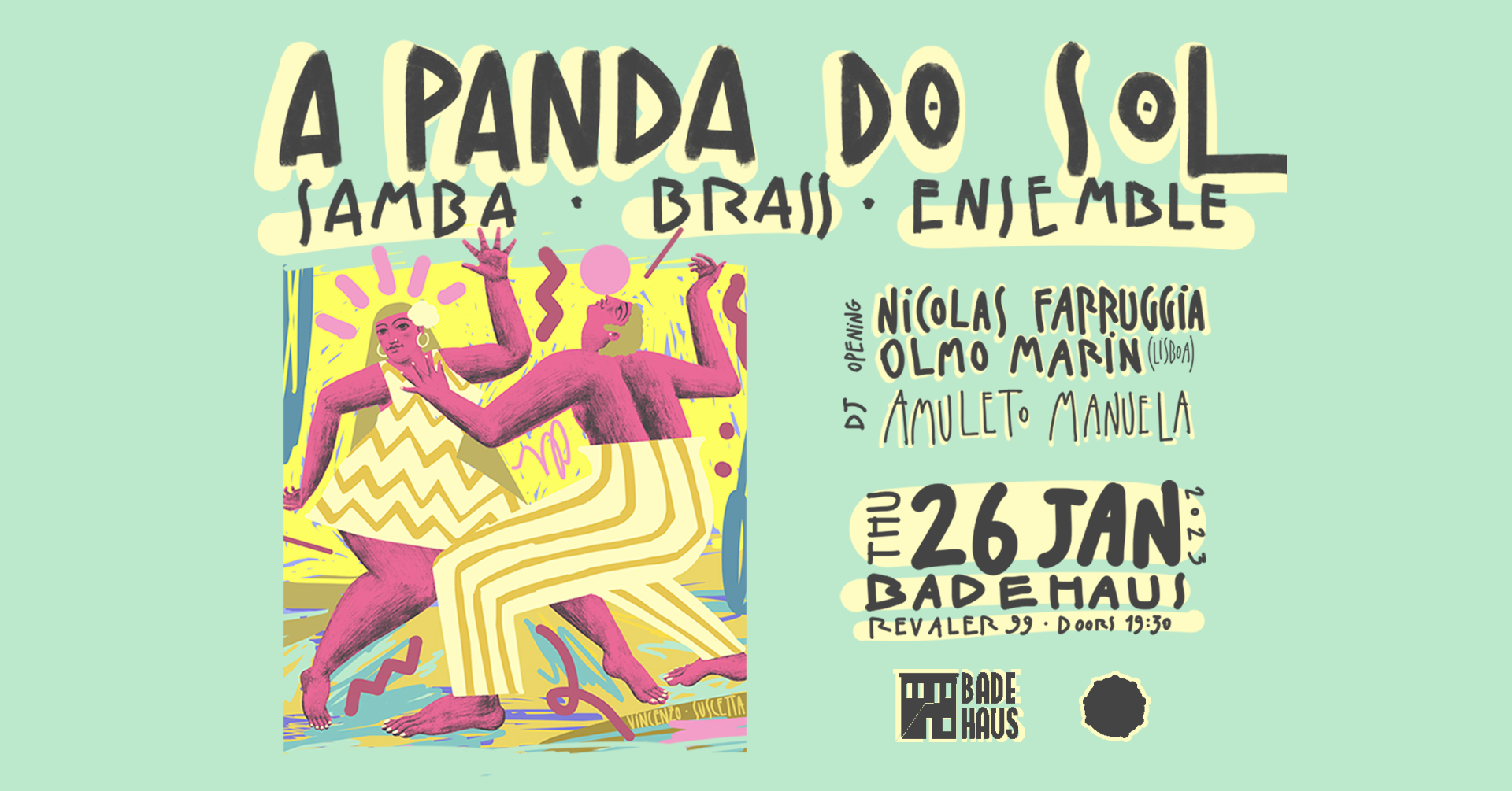 Do 26.01.2023 | 19:30 UHR
A Panda do Sol
TICKETS
FB-EVENT
Badehaus Berlin
26.01.2023
A Panda do Sol
"Samba Brass Ensemble"
Support: Nicolás Farruggia & Olmo Marín (Lisbon)
DJ: Amuleto Manuela
Doors: 19:30
Start: 20:30
After a sold out release show of their second album "Homenagem" last year, A PANDA DO SOL is finally back at the Badehaus !!
For this special event, they have prepared a lot of surprises for you all.
Still deeply rooted in the sound of Brazilian Samba music, the PANDAS are evolving and exploring new rhythms, integrating more languages into their performance and slowly forging their own and distinctive sound.
It has been a year full of music, encounters, and inspiring journeys for them. The band released their second album, played at the Fusion Festival, went on a tour in Portugal and Spain, and met a lot of talented musicians from every corner of the world!
For this first show of 2023, they have the immense pleasure of bringing two of them to you …
It is in the eclectic and talented scene of Lisboa that they met Nicolás Farruggia and Olmo Marin, two incredible musicians who touched their hearts from the first time they met…
To close the evening, who else then the unique Colombian DJ-selectress Amuleto Manuela to colour up the dancefloor! She is a dedicated and wonderful sound researcher and it is an honor to have her with us again for this second edition!
Entries sold out last time so don't wait to be surprised and get your tickets now!
*
A Panda do Sol
A Panda do Sol was born in Berlin in 2016, founded by French composer, guitarist and vocalist Félix Huet. It gathers today up to eight women and men from Brazil, France, Colombia, Germany & Spain. The ensemble forecasts traditional instruments of the Brazilian Samba music : cavaquinho, guitar, pandeiro, tamborim, and surdo, and blends them together with the sound of a New Orleans brass section: clarinet, saxophone & trumpet, leaving a wonderful carpet for strong solo and harmonised vocals. After the release of their second album "Homenagem", they are currently working on a new project of original music, going beyond the Samba sphere and exploring new rhythms, as well as introducing compositions in French, native language of the two lead vocalists. A blend of Samba, Ciranda, Côco, Valse & Biguine, in the language of A Panda do Sol.
https://instagram.com/apandadosol
Support: Nicolás Farruggia and Olmo Marin (Lisbon)
Brazilian songwriter Chico Buarque, who says of the young cantautor: "This Nico is an ace: beautiful music wearing lyrics that are a prodigy for someone who writes in a language that is not his own." Born in Argentina (1981) and raised in Italy, after a diploma in the United States in classical guitar (IU School of Music, Bloomington, Indiana) and starting a master's degree in London (Royal Academy of Music) Nicolás Farruggia moves to Brazil, where he lives for almost 10 years. There he dives deep into popular tradition and MPB, alongside great masters such as Chico Buarque, Rosa Passos, Johnny Alf, Roberto Menescal, Roberto Mendes and José Carlos Capinan, with whom he writes countless songs and shares countless stages. Since 2016 he resides in Lisbon, where he creates and directs projects with musicians from different parts of the world in search of transculturality; among them the Orquestra Latinidade, the Lisbon Buskers Ensemble, the Forró Miór and Tony Madeira y los Impresionantes. His discography includes albums as a soloist such as Mátria (2009), and "Latinidade" (2012), recorded between São Paulo and La Habana and the albums of his other projects, such as "Orquestra Latinidade" (2019) and "Trotamundos" (2016).
Born in Vitoria, Basque Country, he starts his path between punk sweat and afrofunk hips, but develops as a musician in the Netherlands, where he graduated from the Rotterdam School of Music (Codarts) in the specialty of Brazilian Guitar. He expands his groove across different bands and styles, most notably on seven-string guitar with Choros Limoneros, with whom he recorded an album of the same name in 2013. He is able to flow through the universe of folk, with the bands Mulstef and Luminaria, or get to the roots of choro and samba, with Choro de Maas, Dr. Brincadeira and Leite Quente, but also approaches dance music in projects like Buyakano, Ktinga, or La Fundación. Salsa, hip-hop, afrobeat, life is a carnival! In 2015 he arrives in Lisbon, participating in projects such as Orquestra Latinidade, Nancy Vieira, Savador Sobral, Sambacalao, Diogo Picão, Rosa Mimosa y sus Mariposas, Gondwana or SanlaMuerteCumbiaClub, taking part in international festivals such as Boom, North Sea Jazz, Misty Fest, Fusion Festival, Med or Sines FMM…"
Amuleto Manuela is an artist and dj-selectress based in Berlin and born in what we nowadays call Colombia. Through music and sound she searches for ways of encountering and embodying cultures, rhythms and visions from the global south.
Gefördert von der Staatsministerin für Kultur und Medien & der Initiative Musik im Rahmen der Förderung "Neustart Kultur".